Friday feeling: iPhone 3G, procrastination, productivity, and premium bonds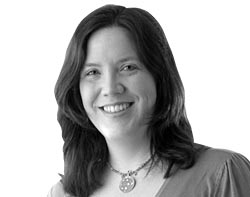 Normally on Friday the editor's blog attempts to bring you a round up of some of the funniest or most intriguing things we've spotted on the web, like the Internet meme rock videos on YouTube. But having been a wee bit late in this morning, I've been feeling the need to make up for lost time all day. No, Friday's no time for fun, it's productivity all the way for me, honest, guv.
So, first, I've been researching whether or not I should get an iPhone 3G when they hit the stores (conveniently forgetting the fact that price cut or not, you do still need to have some spare cash in hand, whereas my spending habits are rather more in line with the shopaholic IT consultant spotted on our Downtime blog…)
The 3G iPhone's enterprise ready, says Apple, despite some analysts raising security concerns. And okay, the company probably won't allow me to connect it to the corporate network. But would it help me do my job as a deputy web editor? You know, online content production, supporting our in-house digital journalists, that kind of thing…
Follow the link or scroll on for what the reviewer from Stuff magazine had to say:
Too big for a pocket? No problem: any excuse for a new handbag is welcome. Speedy web browsing? Excellent. Push email? Even without corporate access it could be useful – I can just forward all my mails to my external account and set that up (until the bandwidth cops spot me at it). Lower price point? Fantastic! Super Monkey Ball
? Sign me up now!
But then I saw this. Which put me off for a number of reasons, not all of them connected to the fact that I have read both The Female Eunuch
and The Whole Woman
within the last year…
No video? No copy and paste? A camera that's not even as good as my Nokia 6500 slide
? Now I'm really not so sure. Maybe I should be setting my sights on a Nokia N96 instead?
If any of you have got your hands on either – or both – do let me know what you think about the devices, especially if you've also got experience of using them to live blog from conferences and events… I'd love some help advising our team on the best devices to help them do their jobs, and getting images, video, text and audio from a remote location straight to the web is key to being able to cover industry events.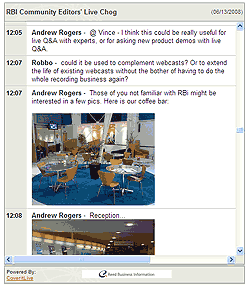 In the meantime, though, it looks like we're stuck with the trusty Wi-fi laptop, despite its bulk (well, other than those members of the team who've bagged themselves an Asus eeePC).
Colleagues on other magazines here at RBI towers have been experimenting with a new live blogging / reporting tool today, from a company called Cover It Live. It allows you to post comments of your own, display (selected) comments from readers, show photos and videos, link to websites, etc – all in more or less real-time. Now I just need to hunt down a volunteer on our team to test it out at a real event or conference for us!
Although I think I'll have more success if I avoid absorbing the in-house terminology coined for it: chogging. Sounds rather more like something selected Sutton teens get up to on the High Street on a Friday night than a legitimate business activity…
Finally, one spilled coffee later (Friday 13th, innit?), I've been posting up a couple of photo stories. One features some artwork inspired by community and charitable projects dreamed up by IT professionals for the Microsoft DesignIT 2008 competition, and the other is a set of charming photos of ERNIE 1, the 1950s computer that served the nation by generating random numbers for the Premium Bonds. Well, now ERNIE's drawn the lucky straw – the machine has just gone on display at the Science Museum's History of Computing gallery. Worth a visit at the weekend?