Extreme data recovery - what was our web editor hiding?
By now you must have watched ComputerWeekly.com web editor James Garner attempting to destroy three PCs furtively smuggled out of RBI's Sutton offices under cover of, well, a Charlie Chaplin walk and a boiler suit disguise. (You haven't seen them yet? Watch the videos – fire, water and crush – here.) But just what was he so keen to hide?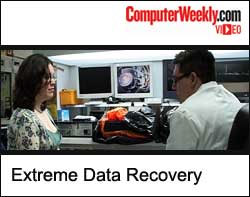 Data recovery firm Kroll Ontrack achieved a 100% successful recovery of the data on our damaged drives, so, keen to find out more, I headed over to their offices in Epsom last week, where I met Pedro, pictured right. Pedro was the engineer who worked on our worked on our machines and you can find out what he thought of our attempts to defeat him in our extreme data recovery recovery film. Let's just say, I'm voting Pedro… But what exactly was he able to retrieve?
Well, I was handed a rather fetchingly packaged portable hard drive containing all the data from our three damaged desktops. (As well as the battered PC carcasses. The fire engine really did do a lot of damage to that one! Our camera man Trevor was picking bits of metal out of his boot for some time after bringing it back to RBI towers.)
Back in the office, I plugged the drive into my laptop's USB socket and was immediately able to see just how much had been rescued – software licenses, desktop settings, hidden system files and the like were all there to see. Although nothing too exciting, given the machines had been given a full wipe and clean install before they were handed over to James to abuse. All that remained was to check out whether James' test data was also restored. And there it was, the secret message, once from each damaged PC, and reproduced below for your pleasure: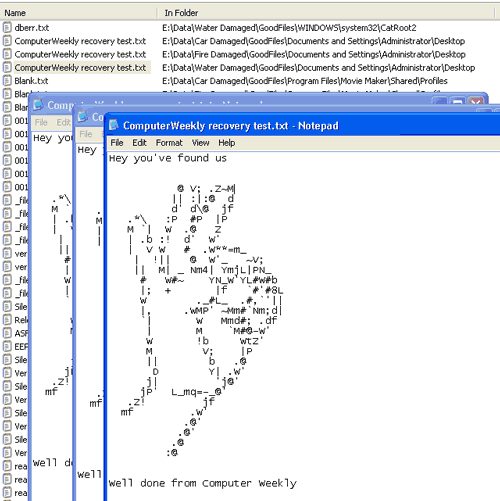 So, water, whiskey, fire and a fire engine proved no match for the space-age data retrieval skills of Pedro and his team. And James' friends and family can relax safe in the knowledge that while his only secret shame is a retro passion for ASCII art!
PS. You can also find out more about the business of data recovery and data lifecycle management – including possibly the first-ever data recovery, the high-profile Columbia case, what you should do if the worst happens to your data, and how to make sure your data can't be retrieved – in our interviews with Kroll Ontrack UK's managing director, Phil Bridge, and business development manger, Alastair Molyneux.