Don't keep your opinions to yourself - make your voice heard in the IT industry
We know that Computer Weekly readers are the decision makers and thought leaders within the IT industry. So don't keep your opinions to yourself, make your voice heard within the industry and you could influence its direction.
Express yourself
With the social media age now well and truly underway, it's now easier than ever to express your views online, but it can be easy for your voice to get lost amid the noise.
To ensure that doesn't happen to you, we've rounded up a few online tipsheets that we've found helpful, below, that should give you some hints about the way to make use of the tools at your disposal. But we'd also like to introduce you to a new initiative from Computer Weekly, that we hope you will find interesting…
Join Computer Weekly's online research panel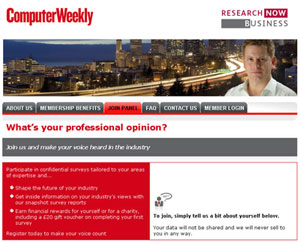 Online research panels are rapidly becoming one of the first tools that suppliers, clients and others turn to when they want to gauge opinion within an industry. By joining an industry panel, you can submit your views to be be analysed alongside those of your peers, according to tried and tested research methods, and directly influence the results.
Computer Weekly has teamed up with established panel company Research Now to launch a brand new IT industry panel, which you can join online now.
Why join our panel?
Well, if you join the Computer Weekly panel now you'll be able to claim a £20 wine voucher (or charity donation) as a thank you for registering, but the real benefits of joining are that you can:
Make your views known within the industry
Find out what other IT professionals think – results of some surveys will be made available to respondents, giving you access to industry-insider knowledge and insight
Benchmark your views against those of your peers
Influence while maintaining anonymity – your views will be aggregated with others'
Financial rewards (vouchers for you or donations to charity) for completion of surveys
And rest assured, we won't be selling to you through the panel – it's for research purposes only, and all panel activity is conducted according to the ESOMAR code of conduct.
To find out more, visit the Computer Weekly & Research Now IT industry research panel sign-up portal.
Alternatively, if you want to get not just your views but your name, too, known within the industry, have a look at these how-to guides we've found online that will help you to manage your (or your company's) online reputation.