Analysing G-Cloud: A need for wider awareness and promotion?
Few could doubt that the government's G-Cloud purchasing framework has been a success so far. More than £100m has been spent through it, opening up the market to SMEs and saving taxpayers' money compared to traditional procurement routes for IT.
There is no evidence to quantify those savings other than anecdotal – nobody is keeping a record of what a contract would have cost in the pre-G-Cloud days to compare – but some buyers have suggested savings of 50% are regularly achieved, with reports of as much as 80%.
But if there is one recurring criticism of G-Cloud, it's that not enough people are using it.
Awareness outside of central government is low – too few local authorities are regular users, for example.
An analysis of the publicly available G-Cloud spending data by Mark Craddock, former Cloudstore lead for the G-Cloud programme in the Cabinet Office and now working independently as a cloud consultant, sheds some interesting light on the challenges of delivering benefits to a wider set of buying organisations.
(Note that Cloudstore is the online catalogue of suppliers and their offerings, while G-Cloud is the purchasing framework within which Cloudstore operates).
Craddock's analysis suggests that while the amount spent and the number of transactions placed through G-Cloud continue to grow, the number of new buyers and suppliers placing and winning deals respectively, seems to have plateaued, as this graph shows: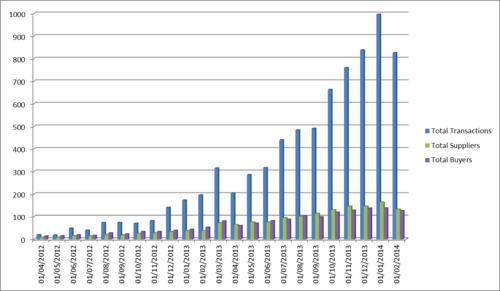 Breaking down those figures further backs up that suggestion. This graph shows the number of new buyers and suppliers using G-Cloud each month:
This chart shows a steady increase up to August 2013 – roughly the time that former G-Cloud programme director Denise McDonagh moved on to become CTO at the Home Office, where she remains a stalwart G-Cloud advocate. But the number of new buyers has yet to recover to that peak level.
Craddock said that he thinks G-Cloud remains under-staffed and claimed just two people work on it full-time.
Back in February last year, former government digital director Chris Chant – the man who launched G-Cloud – called the programme "woefully underfunded" and said the Cabinet Office had originally promised to fund the equivalent of 20 full-time staff for the project.
A detailed look through the G-Cloud data backs up claims that repeat buyers are a big factor in the growth in cumulative spending.
For example, of the 162 transactions placed by the NHS agency the Care Quality Commission, 50 have gone to supplier Axis12, and 90 to Computacenter, with the remaining 22 deals spread between five companies.
The Civil Aviation Authority has placed 169 contracts, with 135 going to SCC, 21 to SmartSourcing and 13 to Equiniti.
The vast majority of the Department for Business, Innovation & Skills' transactions have gone to six suppliers – Fivium, IBM, Huddle, Parity, DXW and Zuhlke.
All but two of the 34 Department for International Development deals have been awarded to Emergn.
Of 205 Department for Work and Pensions contracts, 40 went to Emergn, and 121 to Valtech.
At Health Education England, all but three of 132 deals have gone to BJSS.
From 198 transactions by the Houses of Parliament, all but six went to Interoute.
Every one of the 209 NHS Connecting for Health deals went to the same supplier, BJSS.
At the Office for National Statistics, where 330 transactions have gone through G-Cloud, 194 went to Parity, 59 to Methods Consulting, 43 to LA International, and 26 to Emergn.
Similar patterns can be observed for all the biggest G-Cloud buyers to date.
Now of course, this is still a lot better than having 80% of IT spend going to an oligarchy dominated by five or six big suppliers, as has been the case in the past.
It also has to be said that is is nothing but a huge improvement that all this spending data is publicly available for anyone to see – a welcome change from a past dominated by secrecy and Whitehall hiding behind "commercial confidentiality".
But the statistics suggest that within individual public sector bodies, a small set of suppliers are preferred; and that certain suppliers have worked out how to win G-Cloud deals more effectively than most of their rivals.
Anecdotally again, some suppliers are saying it has become too hard to win business on G-Cloud among so many listed vendors and services, and too difficult to understand how to stand out from that crowd.
The commitment of the Government Digital Service (GDS) to G-Cloud is still strong – although it does intend to re-brand the G-Cloud framework – and the early months of the programme have amply demonstrated that using this sort of framework, with its price transparency, wide range of suppliers, and rapid purchasing process, is shaking up the way parts of the public sector purchase IT for the better.
But it also shows there is a long way to go, and that GDS needs to promote and market G-Cloud more effectively to a wider audience of IT buyers if it is to fulfil its undoubted promise.
Update: Mark Craddock subsequently produced the following graph, which is a breakdown of the organisations eligible to buy through G-Cloud, by sector. It refers to the number of organisations, not the spending power, but it is interesting to see how small a piece of this pie is represented by central government (although the portion by IT spend would of course be much higher). This tends to reinforce the need for greater promotion of G-Cloud beyond Whitehall: