A Formula for Innovation - guest post by Tom Ilube of Garlik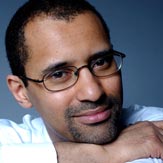 Back in the UK, Tom Ilube brings us an update from the last day of Innovation 100 at Stanford.
The final day of the WEF 2 day conference on innovation held at Standford University commenced as horribly early as the first. Fortunately we kicked off with a warm up exercise that got us out of our seats.
Today's topic was collaborative innovation i.e. how to generate ideas for your business by inviting suppliers, partners, customers and "the crowd" to get involved. All 100 of us were asked to stand in a line against the wall (shades of " The Usual Suspects") on a scale of 0-100 to indicate how much we use collaborative innovation today, and then move to where we felt we needed to be in 5 years time. As one wag muttered "that's the first time I have actually been a bar chart". Interestingly, the pattern did not follow the standard "normal distribution", which may say something about the cautious way that even innovative business leaders are adopting techniques like open source and crowd sourcing.
Mckinsey's model of collaborative innovation assessing a company's degree of openess (culminating in a 2×2 matrix as any good consulting model must) was quite insightful and provided a framework that help put things in to context.
In groups, we debated issues ranging from ownership of intellectual property if you use these models of collaboration, how to incentivise communities to get involved and platforms that facilitate collaboration. The conclusion I came to was that even amongst these innovative luminaries no-one really knows the magic formula for getting a huge, wise crowd of strangers to do all your innovative work for you (mores the pity!).
However, Geoffrey Moore, the celebrated author of Crossing the Chasm, closed the conference with an excellent fast paced session developing a formula for innovation. This was the best session of the two days as he presented his proposed formular (Innovation = A + B + C… – D – E) and facilitated a quick fire, interactive session with us all to challenge and enhance it, whilst the amazing graphic artists sketched furiously away on the walls in the background.
All in all, this 2 day innovation conference was great for networking, good fun and quite thought provoking. My key take away was the power of collaborative innovation, but also the feeling that its okay to experiment as no-one really knows how to do it yet, so you can expect to see Garlik experimenting with some large scale collaborative innovation ideas over the next few months.
Thanks to Tom for sharing the experience of Innovation 100 with us – if you'd like more of Tom's insight he blogs over here as Mr Bojangles.