Big data skills can boost IT salaries by 20%, contract rates by 35%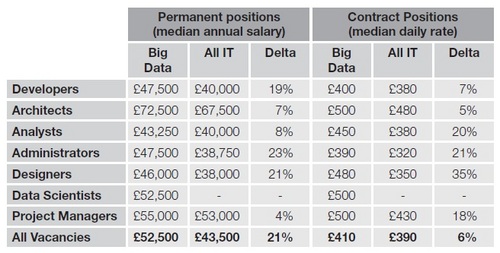 IT professionals with big data skills are likely to earn significantly higher salaries than other IT specialists, research by e-skills UK and IT Jobs Watch reveals. The median salary for big data staff was 21% higher at £52,500 than that for permanent IT staff as a whole (£43,500), an analysis of advertised salaries in the last quarter of 2012 reveals.
Advertised rates for big data contractors were also higher than the average, though the difference was smaller at just 6% total (advertised weekly median rates of £410 and £390 respectively). Contractors working as designers, however can earn 35% more if they have big data skills, while contract analysts can earn 20% more, than the norm.
For more on big data skills, download the e-skills Big Data report from Computer Weekly.