Trust is the key to Collaboration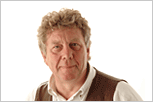 I've just been reading maturity level training material on managing projects. They're based on Prince2. [Link corrected; thanks to commenter Jay Gao.] One module looks at communication skills. A key area it focuses on is ensuring that the end-users of the project's outcome are as committed to its success as the client.
It is critically important when starting any collaboration project to make sure that, while people buy-in to a project, they actually have the time to support their intention. My experience in rolling-out collaborative applications is that their time allocation (be it testing, training or data input) is the hardest to pin down. While you can schedule, plan and book time people's diaries when it comes to the crunch the pressure of 'work' (occasionally a euphemism for laziness) is their way of getting out of what is arguably a boring task.
This leaves collaborative applications being run out untested and unproven with the inevitable consequences; allowing 'users' to run back to the standalone spreadsheet applications they've developed while waiting for the 'killer collaborative app' to be delivered.
Communication is the key to this. And that's not just the project team informing people what's going on but critically, listening to what people mean when they commit to your project. You've got to be sure they are not just saying yes for an easy life now to let you down later. You can throw people and money at a project but you can't throw time.