The truth is out there, just don't tell anyone ! (well not using the company system)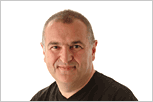 We all know that IT often has a privileged access to business decisions long before they are presented internally or externally.
Computer Weekly is reporting
on a Marks and Spencer employee who faces dismissal after 25 years of loyal service for leaking information to a newspaper regarding the reduction of severance pay the company was in the process of implementing.
This is a salutary lesson, he may have felt morally obliged to try to 'head off his employer at the pass' but as an IT professional he obviously has little idea of the level and sophistication of logging available today, not impressive.
These crises of conscience happen across many departments within the corporate environment, HR, Finance and of course IS. It is our duty to remain professional with the possible exception when our employer is undertaking illegal practises. The rule is simple we do not disclose information that is 'Company Confidential'.
Mischief or reporting of activities outside of the law are likely to be communicated from untraceable email addresses and sent from unremarkable IP addresses (or so I am told !).
M&S employees take note!