pdc_ozzie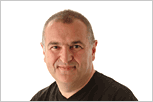 As the new dude in town, and with a cold wind whipping in from the economic prairies, this year's PDC and its associated announcements have given me more than simply a software sugar rush.
Yes there have been lots of visual sweets (candy) to savour. But more than that I liked what MS has brought to the fore at a more fundamental level.
Announcements ranging from the deeply technical to strategic directions illuminate the vision that Ray Ozzie has developed for data and devices, software plus services. The Microsoft.2008 I have joined seems to be connected, relevant and based on what has been achieved in a relatively short space of time – agile.
Lets face it is going to be tough across most economies for some time, but being of a certain age I can be certain that for every 'downturn' the corresponding 'upturn' will turn up – and we will be ready for it.
Next week is TechEd and I hope to have enough time to play with some of the new toys and more importantly quiz 'they who know' on the declared strategy.
It is going to be interesting.