TechEd Wrap-up: From Barcelona with Groove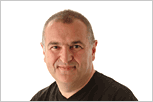 Barcelona is a fabulous city, the broad avenues of the modern town serving as a stark contrast to the ancient, narrow and complex Gothic quarter.
My first event as a Microsoft employee feels much like the city comparison. My previous life as a Business Partner was necessarily narrow, with a close focus on the here and how, whereas working for a large corporate enterprise means that I have to take a bigger and longer term view.
The TechEd high points for me were the questions that people asked. They varied from interesting deep technical queries or tricky architectural questions to those that the questioner knows that either can't or won't be answered. Whatever the query we always tried to answer fully, frankly and with an open agenda.
Next year TechEd is in Berlin, from my former life it brings back more than a few memories. I can only hope I get more sleep that I did last time I was there.
Mark and I did another TechEd On-line Web cast, if you are interested you can see it here
Extending