TechEd ITPro - Day 4/5 - Grasping my goodies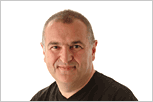 The last two days of a long (first) week have been topped off by my appearance on the Tech-Ed TV website. Playing 'Paxman' to Mark Ryan's 'Minister' we blew away some of the myths surrounding Groove. You can see our efforts here, Try not to laugh to much.
Day 4 was a gruelling stand-day, our 'chuchkies' turned up so we had to fend of the hoards of memory stick collectors who undoubtedly can smell a give away from 200 yards. It really hacks me off when they don't say please before grasping the goodies so a few lessons in politeness were delivered.
The last day of the event was a relief from life in the the conference centre as we ran a 'cram' course for Groove in the Hilton. I was deeply impressed with the 'full house' we achieved. On reflection the recent announcements from Microsoft has keyed many customers and partners into realising that it is smart to get to know Groove.
It is the week-end now and my time is almost completely occupied by my better half who has come to join me. Stick with the blog posts as the next stop TechEd Developers starting on Monday.
New crowd, new questions, can't wait – oh and a new TechEd tv!