TechEd ITPro - Day 3 - Heavy duty Opium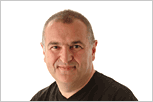 I have not started mainliing, the Opium in question was Barcleona's cinema / night club of the same name which provided the location for the UK Tech-Ed reception. It was good to chill-out and meet a few colleagues and customers as the wifi in the hotel is amazingly flaky.
To me yesterday's highlight came from outside the conference. In particular the BBC's story anouncing the demise of Windows 3.1! 'On 1 November Microsoft stopped issuing licences for the software that made its debut in May 1990 in the US.'
I am sort of nostaligic for gold ol' 3.1 is was the first really useful version of Windows and without it I would not be here today so with all its glitched and idiosyncratic behaviour I for one tip my hat to mark its passing.
Like they say, "The King (Windows 3.1) is dead, all hail the King (Windows 7)