Security still a people problem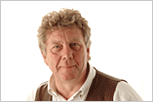 Walking round Infosecurity 2008 you realise how significant the change to commoditisation in IT has become. The once arcane secrets of IT security are now an applied science — bolt on the black box and away you go. However, the calls from the demonstrators on the exhibition stands were all about people still being the problem.

it's not the external threat — it's the internal one
. Plus ça change, plus c'est la même chose

Just to prove it, over 20 years ago I wrote an article stating that computer viruses were a myth. How wrong can you be Kaspersky Lab the stand at infosec with the most helpful staff and the best giveaways confirms the point.