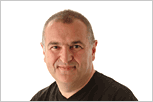 It happens to us all (especially men), you open the fridge, take a good, hard look and then ask all and sundry 'where's the butter' only to have a smug partner or off-spring point out that the butter is right in front of you!
'But its on the third shelf and its normally on the second shelf so that explains it all (not)'
I suffer from this affliction, especially when typing – I can read and re-read a document (or blog entry) many times and miss some of the most blindingly obvious spelling and grammatical howlers.
I have found that is takes me around 48 hours between writing a document and then reviewing it to reach the point where I am mentally disconnected from its contents and therefore able to 'see' all of the errors scattered around its contents.
I wrote this document yesterday and I hope that after I have looked over it a few times prior to its escape that I will have been able to expurgate the horrors.
It would not surprise me that the more grammatically capable of you will still be able to find some nits to pick.
Three edits so far:
1 missing word
1 paragraph restructure
1 word removed
2 words added