Its not all drumming Gorillas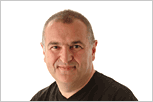 YouTube's popularity was built on a plethora of pirated content which triggered a copyright war when Google bought the service, recent changes have turned the 'bad' into 'good'.
Through the use of content ID to identify copyrighted material, originators are not now demanding the removal of videos but now using this 'window' into their fan base to drive viewers to other 'paid for' materials and services.
Youtube is going from an anarchic melée of material to a focused marketing tool for corporates. I have read a couple of great blog posts on this; one from
readwriteweb
and one from
venturebeat
both highlighting and discussing this phenomenon.
Of course we have seen this in PCs and Mac apps for years. We have had 'slugged' versions of applications either given away or time-bombed in order to try to drive users to richer 'paid for' licences.
The way that the Web drives revenue is an evolving story, we are just at the beginning.