If you work with IBM or MS collabarative technology in the Enterprise, you may be out of work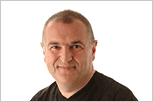 I don't want to alarm my Quickr, Sharepoint, Notes or Exchange readers but to more than paraphrase the Barak Obama mantra (sort of): SaaS is going to deliver 'Change we can believe in' .
Whether built around the Microsoft 'Mesh' vision, Google Enterprise Apps or IBMs SaaSpace, the technologies we all have traditionally had our arms around (both physically in the form of servers, and metaphysically in the form of platforms) is about to exit through the Corporate front door.
I came across Jeff Kaplan's excellent blog which is focussed on industry drivers, trends and technology associated with the SaaS bow wave. Those of us configuring in-house environments should start to take note. Some of the skills we have gained over the last 15 years simply will not be needed or will be severely devalued, now is the time to develop new competencies that demonstrate our worth during the impending 'change'.
Of course this is not going to happen overnight, but none of us will want to be left behind. Those of us with the ability to address real Business Integration solutions that can both bridge to, and take advantage of the route from legacy technology to a world of SaaS that encompass Enterprise (and smaller) accounts will flourish, if you cannot adapt then welcome to a world of dwindling opportunity.
Its all very Darwinian