Iberia Customer Service: Oxymoron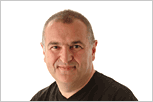 I have travelled with Spain's flag carrier on a number of journey's recently and I have to say I am not impressed. Yes I am out the 'back' but paying a 'Y' class full fare is not cheap.
Practically everything you wish to consume is charged for, I felt that if the toilet could be converted to pay as you go then I would have to spend a few Euro's to spend a penny.
On Wednesday at the Heathrow Gulag (terminal 2) I was give a harsh 'no' when I asked to fly on an earlier (and emptyish) flight to Madrid. The English guy on the gate was trying to be helpful but the faceless ones in the office declined to value a happy flier.
The result is this blog entry, telling the world (or the small bit of the world that reads it) what a poor service Iberia offers and a chance to warn off a few unsuspecting customers.
I was going to compare this experience to Ryanair or Easyjet but at least you know what you are in for when flying with budget carriers. They should all check out JetBlue in the US in my opinion.