IBM wants a piece of the Mac market
Ed Brill has blogged overnight as part of an effort by IBM Lotus to attack the putative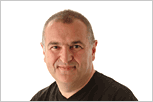 Enterprise Mac market with the launch of the Lotus Notes 8.5 client which takes better advantage of the OSX environment.
It is good to see that this under served sector getting some attention but the blog post highlights the problem that IBM has always had…. corporate firewalls often restrict platform owners from understanding on which environments their software is deployed.
This contrasts dramatically with SaaS model where the application provider can track at an intimate level which machine, which OS, which browser, which feature and for how long each user interacts with individual features.
With this sort of data we can look to a future with 'tuned' SaaS applications than can be revised in tiny steps improving the end user experience in a granular manner rather the the big point releases that we have to tolerate right now.