Google trumps Microsoft, IBM struggles in the also-rans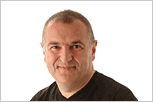 Google beating Microsoft, IBM down in the pack of the brand 'peloton' – times change but often not that much.
The
prestigious UK Business SuperBrands
survey was published yesterday and Google has achieved first place pushing Microsoft into second place following MS triumph last year,
IBM has improved three spots on 2007 going up to 58 from 61 but really should be doing better than being alongside the likes of Black & Decker and Kleenex.
This survey is not about sales but about perception and recognition. The top two along with the BBC, Mercedes and British Airways continue to dominate business recognition. It is interesting to see how poor most technology brands languish with the notable exception of Apple.
On the plus side we may have lost our sweet tooth as Coca-Cola have dropped from 2nd to 14th.