French Letter #7 - Using Web 2.0 to navigate unfamiliar territory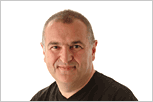 'Allo, 'allo
My vacations around Europe are driven by the use of
TomTom
. For about 5 years now I have enjoyed GPS navigation to some of the most out of the way places.
Many European roads during the peak holiday season are empty. With the judicious use of way-points and the selection of 'off motorway' routing it is possible as I did last week to drive through 80 miles of glorious French countryside without being behind a single car for more than 2 or 3 minutes.
For our return we are taking an equally leisurely return route, outward was westerly around Paris, the inward path will be easterly via Aix-les-Bains and Luxembourg and on to Calais.
I decided to consult an arbiter of mapping
viaMichelin
for a route for my return and then compare this to my TomTom.
What I discovered was that TomTom has a homogenous map of western Europe and routed me the most efficient way to Aix-les-Bains (via Italy), whereas viaMichelin insisted that the fastest route was to stay inside French borders and was around 45 minutes (and many miles) longer and thats without the ubiquitous 'Bouchons'.
It does prove if any were needed as much as we love Web 2.0 features it is easy to be misled by the glitz of some sites.
I do recommend finding the most obscure French hotel / restaurants and using GPS to take you there there are many gems to be found.
Lets 'Frappé la route'