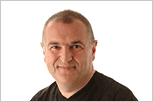 IBM (and through its proxy Lotus) has for the last twelve years been a leader in the 'art' of collaboration. Notes, Domino and Sametime and latterly Quickr and Connections are some of the most widely used collaboration tools in the market with the last two truly addressing the '2.0' generation.
With Lotusphere 2008 one month away I thought I would consider where IBM and the industry is heading

I was curious to get an early view of business grade use of 2.0 type tools from Mike Rhodin, General Manager for IBM Collaboration and Lotus Software division.
MIke's view is that "When some of the most conservative financial institutions in the world uses unified communication and collaboration technology that affords them countless ways to bypass email in the pursuit of instant productivity, it's clear we've entered the next era.".
Has Mike hit the nail on the head? and is the age of 'email' on the wane? I am not sure, my view is that we are seeing an evolution of collaboration not revolution. Collaborative technology for the last twenty years has been mimicking social and business practices, accelerating and streamlining them but not fundamentally changing them. The paper may have gone but the processes live on.
In my opinion we are moving into an age of voluntary knowledge management where instead of some server trying to process, digest and deliver insight about people and processes inside an organisation, social tools are allowing personnel to actively contribute information on what they know, what they do and where you can find them. This is 'bottom up KM' and if harnessed could make a massive impact on further improving our working environments.
I thought it might be interesting for a few predictions for Lotusphere 2008 so I will address these in my next blog