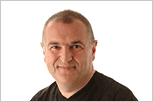 This is my first Lotusphere 2008 blog and I have a captive blog source. As I travel from London to Orlando there are a number of delegates on the flight who I have asked to share with me their expectations of next weeks IBM event.

A quick reveal of my branded shirt (we geeks love to wear identifying plumage) flushed out some 'Big Blue' fellow travelers heading for the conference. 'What are your expectations for next week' I queried, 'its for my first Computer Weekly blog about Lotusphere', 'We don't have expectations' they said, apparently working for IBM enforces some sort of mental celibacy at this time, so I turned to my business partner Gareth to gauge his expectations.
Gareth is not short of opinions and in a brief but intense period of in-flight speculation his and my expectations travelled from a 'complete rebuild of the native Lotus Notes client' to they delivery of a new Notes UI look and feel of 2010 (or what be can reasonably anticipated). From here we anticipated the benefits to IBM of 'tight cooperation with Apple' both in terms of effective marketing, industry awareness and robustness of technology, through to the '50th anniversary of the birth of the computer mouse' – a very oblique relationship to the conference. We ended ending up considering Lotus 'delivering on the Activities function' launched last year but desperately in need of significant fleshing out this year. Now we can only wait and see.
On this and other planes assembled addicts are arrving lap up the technology and innovation that IBM is without doubt brilliant at building. Each year those same addicts bleat and carp about IBM's inability to effectively achieve the market awareness that will support their own business and each year most resolve to come back next year, many do. We must be technical masochists.
It leaves me with one perennial question, as I type this at 36,000ft over Nova Scotia I wonder (as I do every year) what is at Godthab in Greenland that makes it deserve a place name on the travelling map?