Why the next app gold rush won't just be on iTunes
In this guest blog post, Gavin Michael chief technology innovation officer at Accenture, covers the shift from monolithic applications to the Apple AppStore-style of application deployment.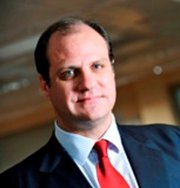 It is easy to feel gloomy about the past three years, given the lingering economic turmoil across global markets. But through a different lens, it's also quite reasonable to argue that the past 39 months have been one of the most prolific periods of creativity and innovation that mankind has ever seen. As the world has gone mobile, countless apps have been created to quickly, easily and cheaply cater to nearly any conceivable need.
On July 10th, 2008, Apple's App Store debuted on its iTunes platform, providing a marketplace for its still-new iPhone. Less than 1,200 days later, over 500,000 apps are now available for download. This implies that over 415 new apps have been added for every day that the platform has been live. It's not been alone. Google's Android marketplace has over 300,000 apps for it, for example. Whatever the task, "there's an app for that" is increasingly the reply. In a few taps, you can learn how to cook, check-in for your flight, find your car, entertain your children, watch the news, book a meeting, track your run, make a film, improve your golf, balance your budget, or just irritate your friends.
For consumers, the great app rush has delivered enormous new value, with over 15 billion apps installed so far. One fundamental reason behind this success has been the creation of dedicated, easy to use marketplaces that provide a distribution, marketing and sales platform for developers. They allow a lone programmer working weekends to compete squarely against a multinational. Here, the best idea wins, not just the biggest marketing budget.
For CIOs, a similar shift at the enterprise level is starting to drive new approaches to how enterprise applications are created. The era of monolithic applications, with long development and implementation cycles, is rapidly giving way to more flexible and adaptable businesses, dynamically provisioned via the cloud. CIOs will still develop proprietary tools to give their firms a competitive edge, but they will also draw on enterprise app stores to access a growing ecosystem of apps and useful code, supplied by a far wider pool of developers.
In turn, this enables CIOs to start planning a more strategic role. They can become service orchestrators that curate and assemble the most valuable pieces of code, whether from internal development or via app stores, and use that to speed both innovation and implementation. They're still going to build enterprise applications; they're just going to build them differently.
A growing range of enterprise app stores-such as Salesforce.com AppExchange, Intuit's Marketplace or Apperion, among others-are steadily expanding and maturing. As such platforms become more commonplace, CIOs can start to focus more on the core business processes and services that help their firms stand out in the market, rather than worrying about the physical infrastructure to support this. They can focus on services, not servers.
One early example comes from Nongfu Spring, China's largest bottled water company. It has developed a new backend system that can calculate the exact time and cost of any given shipment in just 37 seconds, down from 24 hours previously. This new competitive advantage is given wings by the fact that its 8,000-strong sales team can access it via a simple mobile app, empowering them to give customers information on demand. As this example highlights, CIOs are still going to build enterprise software to give them an edge in their market, but they're going to do it differently than before.
Of course, this shift brings new challenges too. To really tap into this, CIOs will need to decouple their firm's IT architecture, while freeing corporate data to move more easily between applications and the cloud. Interoperability needs to be enabled in application environments that are often heterogeneous. Most importantly, CIOs have to componentize their business model, controlling the processes that matter most, while commoditizing the rest.
All these are significant departures, but they can bring huge benefits. Just as consumers have been able to access apps for all needs, so too will firms. Developers of all shapes and sizes are rapidly creating tools for a range of sectors, with apps emerging for a wide range of needs: tracking electronic medical records, providing customer support, speeding logistics, entering expenses, and far more. These are freeing up CIOs to focus on the services that are core to their competitive advantage. For all else, well, there's an app for that.
Gavin Michael is Chief Technology Innovation Officer at Accenture. Follow Gavin on Twitter @gavinmichael.
Gavin started working for Accenture in 2010. He previously worked at Lloyds Banking Group as the Retail Technology Director. At Lloyds he was also a member of the Retail Bank Board. Prior to this role, he served as CIO of Lloyds TSB – UK Retail Banking & General Insurance. In this capacity, Gavin set the information technology strategy and direction for growing the UK Retail Banking Division and drove strong collaboration and alignment of technology with the business.