Ubuntu Squeezebox music server: update and modifications

Six months ago I wrote about a weekend project to install the SqueezeServer Squeezebox media server on an aging PC (a Hush PC based on a 1.2 GHz Via system with 40GB hard disk and 1 GB of memory) running Ubuntu 10.04 LTS.
This is an update. I have spent the last few months tweaking the setup and buying additional Logitech Squeezebox devices, allowing me to stream music throughout the house with the same song playing in different rooms, or each room playing different music.
Improving music library
The first step in optimising Squeezebox is to rip CDs using a
high definition format
(like FLAC), rather than MP3, which is the default in Windows. I purchased the excellent
dBpoweramp music converter
, which is a relatively fast converter, making use of multi-core processors. It uses several metadata sources and also checks the accuracy of the conversion.
Hi-Fi audio from a PC
The next upgrade was a Music Fidelity V-LInk II asynchronous USB audio interface. This is designed to improve the
audio performance of PCs
, by reducing "jitter". The device simply plugs into a spare USB port and provides an optical and coaxial digital audio output connectors that enables PC audio to stream into a high quality digital audio converter. I use it to connect the Hush PC that runs my Ubuntu Squeezebox server and Linux SqueezeSlave player software to my Hi-Fi, which is based around a Quad 99 CDP digital audio converter. The
aplay -l
command in Linux should list the Music Fidelity V-Link II as an audio device.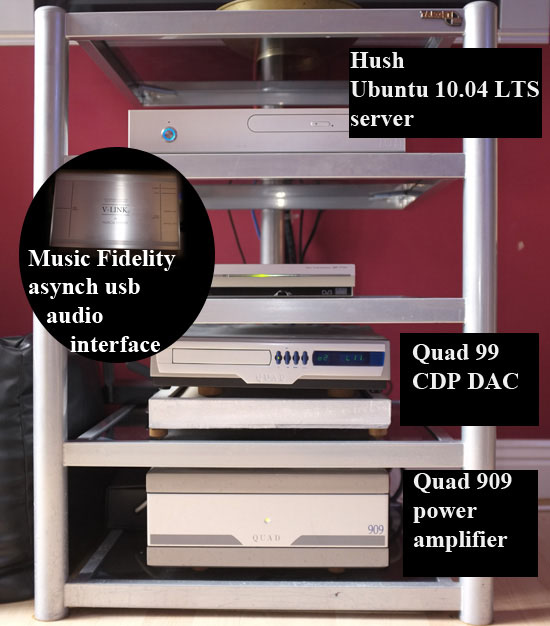 Streaming anywhere
As I mentioned at the start of this post, I have also purchased a few Logitech Squeezebox clients, such as the Squeezebox Radio. This plays internet radio, but also works perfectly as a Squeezebox player, so I have connected it to an amplifier via the headphone socket (using the red cable in the photograph below) to access music on my Hush PC Ubuntu 10.04 LTS-based Squeezebox server.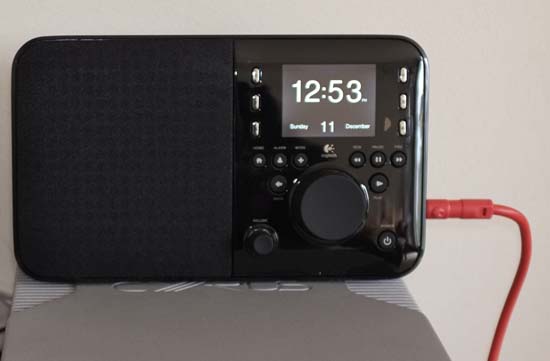 Ubuntu on Windows
Finally I have made a few tweaks to the Ubuntu setup. Although I originally wanted to run my setup in "headless" mode without a GUI, I am not a Linux expert and admin can be a bit daunting for newbies like myself.
So I have been using
Xming
, which is basically an X Windows client that runs on Windows-based PCs, providing access to an X Windows server, like the Gnome Desktop (GDE) that comes with Ubuntu. The concept is called X Windows forwarding and it works a bit like Citrix on a Windows environment.
Xming
lets you access the Linux GUI from a Windows PC. This is a screenshot of my Ubuntu Squeezebox server on a Windows 7 PC, with Xming running in full-screen mode.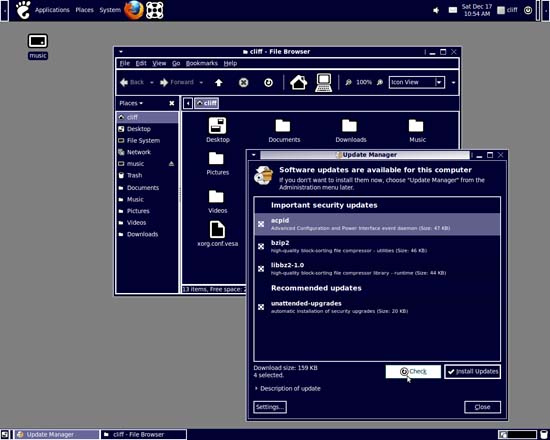 To access my Ubuntu server I set up a Windows batch file, which I called hush-gdm.bat and made it available from the Windows Start menu. Whenever I need to do maintenance on the Ubuntu Squeezebox server, I simply click on the menu item (in the screenshot below " Connect to Hush").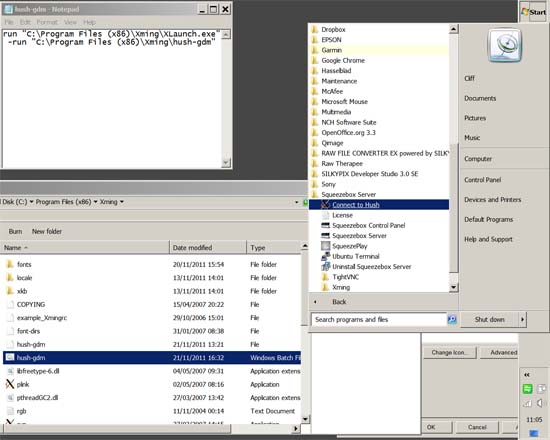 The batch file uses a configuration file. I created mine (called
hush-gdm
) using the
xLaunch
program that comes with Xming.