Office 2007 Deployment: Modify the van... (the Office 2007 Customization tool)
So after sending out those files to yonder workstations, we should be in a good position to install Office itself by running the setup executable located in the local MSOCache.
But if we were to do it the good old fashioned way, this means all the users would have to go through the process themselves with a product key that's best left with the few trusted people as opposed to everyone with a bit of savvy who could take all that home and get a free copy of Office…
And it's best also that we get a consistent install with the options set that we want, otherwise it will mean manual configuration afterwards to achieve the same goal. Which you will agree is rubbish. So once again for us, Microsoft have provided a nice way of achieving this goal; The Office Customization (not Customisation) Tool
There is no direct way of opening it – you use the office setup executable with a switch to gain access:
setup.exe /admin
and then after a few seconds it pops into view asking you to either create a new file or open an existing msp file to alter an existing set of settings, after which you should be presented with the following screen;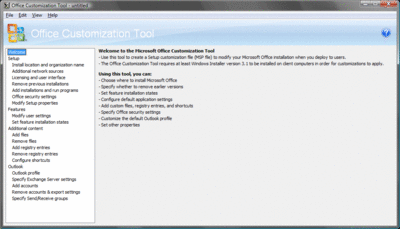 Basically it's the welcome screen telling you about various bits of what the tool offers you in terms of the customisations on offer. A lot of what the tool allows you to change is fairly self-explanatory but there are some areas worthy of note which will aid you in the customisation.
First off, in the "Licensing and User Interface" section, you can set the license key, accept the terms of the license on behalf of the user and then alter what level of dialog the user will see while Office is installing, either a full view, cut-down or not even visible. The completion notice is also optional.
In all honesty, we didn't want the possibility of anyone touching anything during the installation, breaking it in the process and making ourselves unhappy. So we left the "Suppress Modal" option ticked so no error messages or other dialogs would pop up during the install which may have an impact, the "no cancel" so the users couldn't stop the install, and only the basic level of display, so they can see the progress of the install only.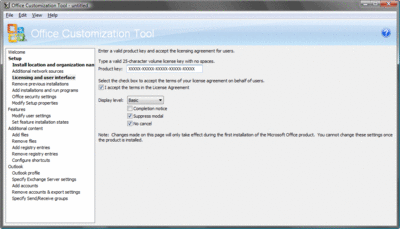 The "Office Security Settings" options allow you to configure the level of macro security for each of the office programs. You may want to change this if you have macros which run tasks for users, but do not want the prompts to allow it to run to be seen. That's a wee bit of a security hole to be sure if you start lowering the macro security.
But also under the same options you can add certificates to a trusted location and also specify trusted paths to files perhaps if you going to have things run from a certain location. You will have to decide what your needs are if any, as we don't have a requirement to lower the default settings given in this area for this deployment. More than likely you will know about what type of macros are present for any documents used as a result of gathering data from the Officescan program and therefore can take account of any issues.
"Add installations and programs" is where you can add extra programs to be installed at the time Office is being installed, but for what we are doing, we are adding additional programs via the KIX logon process and therefore we left this blank. It was from the point of view, that it would be easier just to comment out in the logon script quickly rather than alter the MSP and we didn't want anything else to have an impact on Office while it was installing. Personal preference I guess.
But the most evil part of the tool is the "Modify User Settings" option under the Features section, and you can see why;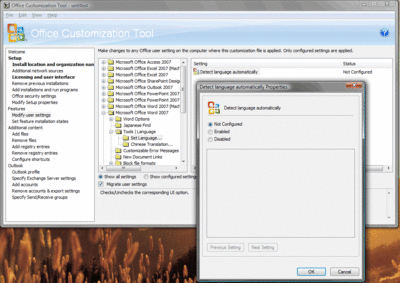 There are, shall we say, more than a couple of settings that you could potentially alter here for every office program going depending on what version of office you are running the tool from. Editing Language is always a good one as having the UK dictionary by default is always one that you have to do yourself. Same goes for paper sizes actually, it's always good to have A4 as the trusted size of choice by default rather than that silly letter size that's only slightly smaller. GRRRR!
But before you think you have altered every single little setting within this area, think again. We've altered literally three settings. Three. Microsoft themselves we were told from the chap who came to visit during our first encounter pushing out Office only altered 15 maximum. So in all honesty you will probably not need to alter many settings as well.
These settings within the "Modify User Settings" are also found within the ADM templates for Office which can be imported into a group policy of your choice and then configured in the same way.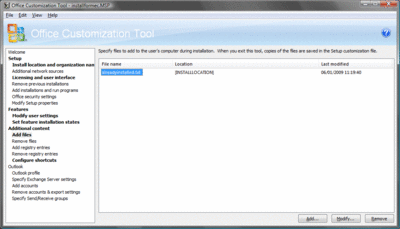 Another part we are using to our own evil ends and that is the "Add files" setting under the Additional Content section which will copy a file called "alreadyinstalled.txt" into the [INSTALLLOCATION] specified for Office, which in this case we have as the default being "C:Program FilesMicrosoft Office"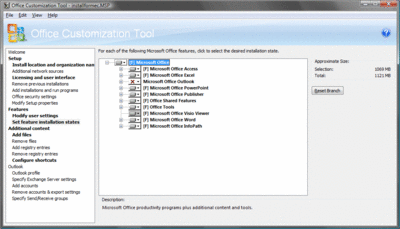 Now you can also customise what actually gets installed as part of the deployment within the tool and that is important to us for one simple reason. If you use something else for example, Lotus Notes, Outlook doesn't need to be pushed out.
You may decide that you want only Word installing en masse due to using other solutions, or indeed just install everything. Something like this is jolly handy if you create multiple MSP files based on different programs to be deployed. The install selection resides under the "Set feature installation states" section under the "Features" area.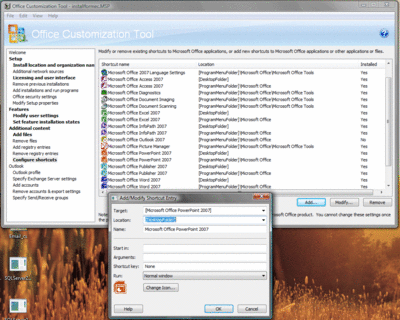 And finally in our whirlwind tour of the tool, you can add shortcuts to the office programs within the "Configure Shortcuts" section of the "Additional content" feature set, and the main reason for altering this is: Lots of people use desktop shortcuts, and why not make life that little bit better by adding the shortcuts for them?
We will save that MSP under the same area for the office media under that configs folder we created earlier so it keeps it all together. And basically that's what we did to customise the office install. There are many things which can be configured using the Office Customization Tool but you will have to work out what will be set for your own rollout, and these settings will have to be tested by some end users to make sure they are happy with what you have set.
I do also recommend documenting what has been changed for the simple reason of "We've gotten what we did" syndrome – it's handy to have a reference in case you need to redo the file for any reason.
So now we are basically ready to rollout Office. Scary!
Next time, we'll go through the KIX script parts and actually talk about some 'what if' situations like what if you have a locked down environment and some possible workarounds to that end seeing as Active Directory is out of the question.