Infosecurity 2012: denial of service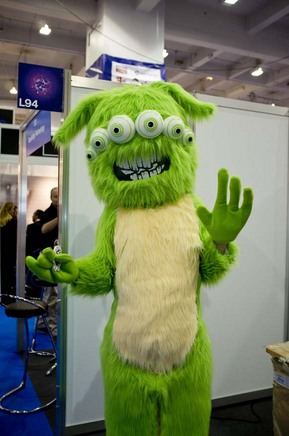 I can't be the only person to have suffered a catastrophic loss of Wi-Fi at this year's Infosecurity Europe conference at Earls Court. The network, provided by Ruckus Wireless, was free but required users to accept terms & conditions. The problem I found was that the authentication kept timing out, and even once I had gained access as a legitimate user, it was far too slow to enable me to connect to my corporate network via f5 FirePass. How rubbish is that? One exhibitor actually told a colleague of mine that he didn't expect any better from exhhbtions or conferences.
The organiser roughly knows how many delegates will attend; it knows how many exhibitors will be there. It surely cannot be rocket science to create a temporary WiFi LAN that can scale to this many concurrent users, given the majority of people attending, work in the IT sector and therefore are heavy users of mobile internet.
It goes to show just how ill-prepared the UK is. We have nothing to fear about green furry monsters. But when the world and his dog descends on London for the Olympics, I wonder how the cellular, data and WiFi networks will cope?