Guest blog post: Gavin Michael, CTIO Accenture on the "I" in IT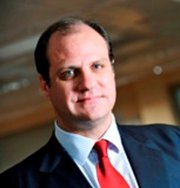 Data is the number one issue on the CIO agenda this year. The challenge today is managing information, and CIOs who create a data architecture within their enterprise that supports the free flow of information will be winners. In the not too distant past, all the data an enterprise needed was generated within its four-walls. Now CIOs need to think about data in terms of the broader eco-system that surrounds their organisation. They need to understand and analyse data from Facebook, Twitter and a raft of other external sources. Also, many of the existing architectures within organisations are not able to support the exponential increases in data and variety of sources and data structures, and the cracks are starting to show.

To prevent these cracks deepening, organisations will be forced to go back to basics and rebuild their data platform from the foundations up. CIOs will need to think about data as a new platform. It's not just about handling data growth and volume in terms of storage, processing power, cost, etc, it is imperative to derive value from it too.

A good foundation will consist of data models, data architectures, storage architectures and strong data governance (including governance of data quality). But the platform will only be effective if it allows the free flow of information around the enterprise, and can handle traditional structured data as well as unstructured data.

With distributed data being the new normal, the data governance function now also needs to take a more pragmatic view of data quality. The growing availability of external data sources–including social media sites–means that not all data will be of a verifiable standard. The governance function needs to determine when accuracy is needed and when "good enough" is sufficient.

Business leaders are also realising that timely data and analytics can create a strong competitive advantage for their organisation. This is particularly true in the financial services, telecoms and retail sectors. And it is necessary that the new data platforms provide insights in a timely fashion. In the current competitive environment, timeliness is often the difference between prospering and folding. Companies that get it right will be able to provide a richer set of services at the right time to customers. They will be able to differentiate themselves in the eyes of their customers in a way that companies which have not dealt with this issue cannot. Having the right data platform will become a strong business driver for the way in which innovation and growth are delivered, and companies that make the investment will pull away from those who are still floundering.

As well as putting the right technology in place, the evolution of data as a platform also requires today's CIOs to identify the skills within the organisation to be able to deal with new data models and data governance. When it comes to building this new platform, it is critical that not only the CIO, but the business users are also actively involved every step of the way. Building a new data platform is not just a technology issue; it is a business issue too.

The CIO's role in this important transition is vital. We are seeing the CIO becoming less of the supplier of technology services and more of an orchestrator. We are seeing a shift towards business outcomes rather than just driving technology operations. This is all part of the CIO becoming a true business leader; being able to understand, on one hand, the value that the data can provide to the organisation and, on the other hand, being able to deliver a set of services that can extract that value.
Gavin Michael is Chief Technology Innovation Officer at Accenture. Follow Gavin on Twitter @gavinmichael.
Gavin started working for Accenture in 2010. He previously worked at Lloyds Banking Group as the Retail Technology Director. At Lloyds he was also a member of the Retail Bank Board. Prior to this role, he served as CIO of Lloyds TSB – UK Retail Banking & General Insurance. In this capacity, Gavin set the information technology strategy and direction for growing the UK Retail Banking Division and drove strong collaboration and alignment of technology with the business.