With the chat app kill the SMS?
Will software application developers who build online chat apps be in some part responsible for the ultimate demise and passing of the SMS communication?
This is the question we now face as free chat apps like 'WhatsApp' help chat app messaging overtake SMS texts.
Research group Informa's Pamela Clark-Dickson says there is "a lot of life still" in SMS at the end of the day.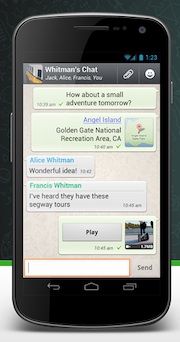 NOTE: WhatsApp Messenger is a cross-platform mobile messaging app to exchange messages (across device platforms) without having to pay for SMS — it is available for iPhone, BlackBerry, Android, Windows Phone and Nokia.
According to the BBC, Clark-Dickson has explained that most of the chat apps were used by consumers who own smartphones. "However, there are a large number of consumers, especially in emerging and lesser developed economies, who use normal mobile phones and rely on SMS as the preferred messaging tool," she said.
Technical marketing spokesperson and self-confessed ninja warrior Nathan Pearce of F5 explains that free apps aren't just muscling in on the messaging territory of mobile service providers; WhatsApp is now rumoured to be considering a voice chat function.
"If we can text and make calls for free on the go, what does the future have in store for mobile service providers? It seems likely that free messaging apps will follow in Skype's footsteps by making traditionally paid-for services free for all. As communication apps continue to take their piece of the pie, mobile service providers will need to look for alternative opportunities to generate revenue," said Pearce.
F5's Pearce insists that context will now play a truly crucial role.
He says that in order to remain competitive in this changing market, "Mobile service providers need to understand context; offering intelligence that allows them to deliver the right data to the right user at the right time, quickly and securely."
Is the SMS dead? No, not yet.
Is the software application development marketplace for chat apps at some kind of fulcrum or inflexion point?
Oh yes indeed.