What to expect from QCon 2015
QCon is coming to London again on March 4 2015 — this is a software development conference with guts not glitz.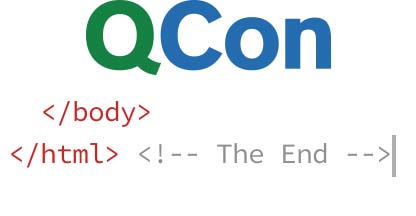 The event is described as a "practitioner-driven conference" designed for technical team leads, architects, engineering directors and project managers who influence innovation in their teams.
"This year's QCon continues our passion and commitment to providing a conference where software development innovators can learn more about innovator-stage topics from the best teams in the world, and from each other," said Floyd Marinescu, QCon conference Chair.
Highlights include a session entitled: Java – Not Dead Yet
The blurb says that Java is evolving to meet developer and business needs, from lambdas in Java 8 to built-in support for money types rumoured for Java 9.
Mobile is no longer the Next Big Thing say the organisers but a requirement for your business — attendees can hear from those who have implemented successful mobile systems.
Emmanuel Marchal, managing director for EMEA at Basho Technologies states that although QCon is primarily a 'party' for developers, architects, engineers and other techy-types to trade thoughts on innovation and how they're achieving it — there is no rule in the charter that states actual users of the tech are banned from proceedings.
"In-fact, a great deal of value can be found for those looking to spot the next innovative piece of software that may revolutionise their business. The speaker line-up, for example, sees an array of top end-user spokespeople, from CIOs to researchers, take to the stage with developers to discuss their use of tech," said Marchal.
He points to his session with bet365 and says that this should appeal not only to the developers but also the users, addressing the technical intricacies of next generation databases and the business value to be gained from a move to NoSQL.
What better for IT managers looking to tackle a persistent pain point than hearing how their peers addressed a similar issue?
Data Gravity
"Furthermore there are presentations from software providers that aim to enlighten both users and developers, with speakers such as Dave McCrory tackling issues such as data gravity and how very large volumes of data can negatively impact network performance. Data Gravity is an issue that can seriously impact a business, and such presentations can be vital learning tools for users' seeking to prepare themselves for the next onslaught of IT issues," said Marchal.
Other sessions include a look at how theories from neuroscience and psychology can help us better understand IT professionals and discover what really motivates them.
Speakers will also look at how to create reactive systems is more than simply learning a framework. Thinking in a reactive way helps you to design responsive architectures.
"QCon is a good event that acts as a pragmatic barometer, showing the evolution of software development. It does this not just in terms of technology innovation, but also by demonstrating how developers are becoming more 'connected' into the business as a whole through the growth of DevOps and Continuous Delivery," said Tulin Green, marketing manager, Perforce Software.
Perforce will present on the topic of 'High Performance Continuous Delivery – Versioning and Release Management Aligned', the session looks at the key requirements for optimising the pipeline from the developers' desktop to the customer.
The conference homepage is found at http://qconlondon.com/