What to expect from Nutanix .NEXT 2015
Nutanix is the 'web-scale converged infrastructure' company, or at least that's what the firm uses as its opening gambit.
The company now hosts its .NEXT user conference in the US — the event runs from Monday June 8 in Miami, Florida… so what should we expect?
Firstly, .NEXT is truly a "user" conference insists the firm.
Most technical sessions feature experienced IT professionals from enterprises who will share what works (and what doesn't work) in their datacentres.

What does Nutanix do?
The firm has developed a hyperconverged solution intended to simplify the creation of enterprise datacentre infrastructures by integrating server and storage resources into a turnkey platform.
As we have said before on the CWDN blog, basically this technology makes building clouds and datacentre resources a whole lot easier.
The industry momentum toward building web-scale datacenters has further validated our Nutanix vision, says the company.
According to Nutanix, now is the perfect time to bring together the community of passionate builders and shapers of this historic technology shift.
So what of the conference?
Founder and CEO Dheeraj Pandey insists that this event is designed for those of us who believe in melding web-scale engineering and consumer-grade design to build beautiful and scalable datacentres.
(Ed — that's all of us, isn't it?)
"We promise an experience that will be nothing short of transformational. Prepare to learn, share, and unite in a common vision of building software-defined infrastructure that will be a joy to interact with and administer," said Pandey.
Hands on Labs
For the coders and engineers, the firm has provided hands on labs to learn about Nutanix capabilities users can implement in your environment.
nuExperience Lab
The company asks… are you passionate about consumer-grade management for enterprise IT? Let us show you the latest from our development labs, and provide feedback directly to our engineers. This is your chance to help shape the user experience for the next generation of datacentre infrastructure.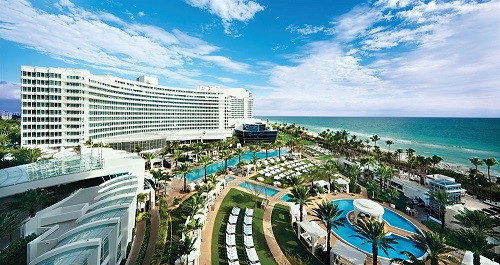 Image caption: Fontainebleau Miami Beach, slightly upmarket from the local 'Econolodge' we think.
The event website is found here.