What to expect from #Interop New York 2014
Interop is an annual information technology exhibition and trade fair that takes place in five locations around the world, this month's event is in New York.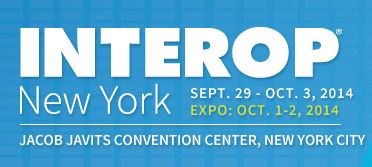 Interop is a show that (unsurprisingly perhaps) promotes the core virtues of interoperability, interchangeability and openness.
The conference and exhibition also sets out to champion:
networks,
mobile and mobility,
the Internet of Things,
cloud and Software Defined Networks (SDNs),
other levels of virtualisation,
security,
social computing and so on.
The Computer Weekly Developer Network spoke to a 'glutch' (Ed – that's the collective noun for a gathering of vendor spokespeople right?) of commentators in advance of the event to try and get a feel for what to expect from the show.
NCP: a new connected future awaits
Elizabeth Flammini, director of marketing at NCP engineering says that the Internet of Things (IoT) will be a hot topic.
"As enterprises are starting to think about the business opportunities that connected devices present, as well as the associated security concerns. Secure managed services based on virtualization / cloud hosting will also be discussed quite heavily, due to enterprises looking for more cost-effective ways to manage and secure their business."
NCP engineering delivers software that allows enterprises to "rethink their remote access" and overcome the complexities of creating, managing and maintaining secure network access for staff.
According to the company's website, NCP's product line spans the spectrum of remote access, from IPsec / SSL VPNs to endpoint firewalls and network access control (NAC) functions.
The company's products support organisations with complex remote user needs and that want to leverage the latest end-devices to increase staff productivity, reduce network administration and adapt policy changes on-the-fly.
SDNs are coming
Fiber Mountain's CEO, M.H. Raza (doesn't like to tell you his first name) said that with continuing device, data and network sprawl he expects to see and hear quite a bit about the proliferation of the hyperscale datacentre and Software Defined Networking.
"We are reaching the limits of sustainability under current network architectures, and I expect that a number of companies will be discussing or demonstrating ways to address the challenges associated with the ever-expanding datacentre," said Raza.
Network monitoring needs love
Network monitoring and security tools company Apcon's president and CEO Richard Rauch spoke on the data security focus he's expecting to see at Interop.
"With almost daily news of data breaches at some of the world's largest companies, conversations among Interop attendees — especially those participating in the Risk Management & Security conference track — will likely centre on the evolving requirement for better network visibility and security. Businesses are learning that network monitoring is a process, and 100 percent data center visibility is essential for confronting the major security challenges of today."
She's a tough on Twitter, but has a soft ITSM centre
Sophie Danby, SysAid's VP of marketing was extremely vocal and said that Interop means a a heavy focus on networks and security — and many of the common challenges currently faced by IT departments such as mobile, cloud, and the need for better analytics.
This all comes (says Danby, who is economically lean with her Twitter follows) against a backdrop of the consumerisation of IT, BYOD, shadow IT, and rising end user and customer expectations around the quality of IT services, IT support, IT costs, and the overall service experience provided by IT.
Stepping up to directly plug her firm, Danby asserted, "This is why SysAid is at Interop, in fact I believe that we are the only mainstream, pure-play IT service management (ITSM) tool provider here. We understand that IT professionals not only need an optimal and secure network and IT infrastructure, but also the ability to manage and support IT service delivery with a heavy focus on meeting end user and customer expectations of IT supply … whether created internally or bought in from cloud service providers. We hope to be chatting with IT professionals beyond the IT itself and about how they are meeting their customers' needs."
"On a personal level, and as a female working in IT, I'm really looking forward to the Women in IT session and its conclusions and outputs," she added.
Also throwing in comment was Atchison Frazer, chief marketing officer of Kemp Technologies.
Dedicated developer lab
"With SDN part of the keynote agenda and with its own dedicated dev lab, Interop attendees can expect to benefit from more meaningful exchanges around what a more flexible, adaptive network can do to accelerate your strategic business imperatives with clear visibility for the first time from the networking infrastructure layer, how enterprise applications are capable of delivering and performing against those strategic business imperatives," he said.
Happy hour
They say it's 5 o'clock somewhere when it's time for a drink, well drinks happen at 3:30 pm in the Big Apple, so expect some pretty relaxed people by the time this show ends — at least the cabs have now been banned from honking (Ed- at least we think it's law now) their horns in New York, so going to bed should be easier.