What do developers want for Christmas?
Software application developers the world over want something very basic for Christmas this year, they want recognition as a global community.
OK that's not strictly true, they do have a list:
1. Beer and soda chilled for the festive celebrations. Wine if you must.
2. Turkey is fine, has turkey pizza not been invented yet though?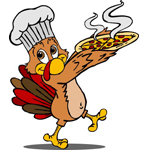 3. The new socks are great, a new "more cowbell" T-shirt would have been better.
4. Yes, melted processed cheese is a suitable Christmas dinner condiment.
5. OK that's the basics, you can get on with world peace and developer recognition as a global community now.
It's the end of the year and it's the holiday season, so why not hug a (freshly washed) developer and remember how many of them there actually are now around the planet?
Yes absolutely this is an unashamed yuletide excuse to mention IDC's 2014 worldwide software developer and ICT-skilled worker estimates.
18.5 million software developers
The analyst house believes not only in Santa Claus this year, it also has faith in its prediction that there are now 18.5 million software developers in the world, of which 11 million are professional software developers and 7.5 million are hobbyist developers.
As a wider and deeper prediction, IDC also believes that there are 29 million ICT-skilled workers in the world, including professional software developers and 18 million operations and management skilled workers.
"IDC's country-by-country analysis of 90 of the most developed countries in the world, representing 97% of the world's GDP, is unique in the industry as it provides the only bottom-up model of the world's developer and ICT-skilled workers," said IDC's Al Hilwa, program director for application development software.
Editorial note: We caution the reader over the use of the word "unique" in any statement as in the above — so far only John Lennon and snowflakes have proved to be genuinely unique and we don't see IDC joining that list this week despite the pedigree of the firm's analysts.
This is a country-by-country (for 90 of what IDC thinks are the "most important" countries in the world) build-out of population estimates based on analysing granular occupation surveys and census data where available, education enrollment and graduation data where available — and other materials and correlations where they are not.
So there you go, point number #5 in the above list addressed, that's 18.5 developer Santa lists to fulfill… we omitted points #6 and #7 which are shown below.

6. Umm that's about it, a Sandberg Bluetooth Stereo Headset would be nice if there's room in the stocking.
7. The Queen's speech will be dutifully observed, after that it's Battlefield 4 and no interruptions please OK?