Wearable technology isn't real yet, is it?
So we all know that Google Glass is (kind of) available now and it represents one of the most progressive manifestations yet of real 'wearable' technology, right?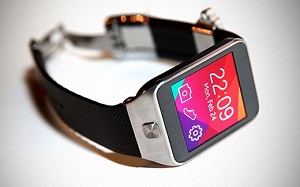 But really real wearables are still (arguably) some way off surely?
Or to put it another way, we might be happy to play with wearable electronically-empowered glasses and super-functional smartwatches, but enterprises haven't actually started using these new tools yet… let alone have software application development professionals actually started to think about programming for these new-age environments.
That may be our general impression, but IFS Labs says it has created a proof-of-concept that shows how users of business applications can benefit from wearable technology, such as the recently launched Samsung Gear 2.
IFS who?
Ah yes sorry, IFS Labs is the "innovation division" of global enterprise applications company IFS.
The company specialises 3-letter acronyms starting with E and so focuses on enterprise resource planning (ERP), enterprise asset management (EAM) and enterprise service management (ESM).
As such, IFS says it is looking to wearables to see where they will be (or "could" be) integrated into real new business application scenarios.
The fully working proof-of-concept demo in question here is allegedly capable of demonstrating how notifications from IFS's business applications can be delivered to wearable technology.
Using Samsung's APIs for notification alerts, IFS connected components of its Enterprise Resource Planning (ERP) and Enterprise Asset Management (EAM) systems to send alerts in line with updates to certain processes.
FOR EXAMPLE: Field service operatives could be alerted when important items are shipped, key projects are started or completed, or even be notified when invoices are paid.
David Anderson, director of IFS Labs has said that his firm is "committed to mobility" (Ed: who isn't?) and that as an ERP player he wants to test and develop emerging technologies within the context of how they can bring value to users of business applications.
Industry analysts are forecasting formidable growth in the wearables market with Gartner estimating that the wearable electronics market will grow to $10 billion by 2016, and CCS Insight predicting that there will be up to 100million smartphone companions (e.g. smartwatches) by 2017.
Are wearables more real yet then? A bit, yes.