Unifying social media APIs for our video conferencing future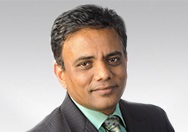 This is a guest post for the Computer Weekly Developer Network by A.E. Natarajan, executive vice president of worldwide engineering at telepresence and voice communication solutions comany Polycom.
A new method of choice?
Videoconferencing is increasingly becoming the communication method of choice for organisations needing to communicate with partners and customers.
According to a recent survey by Redshift Research, videoconferencing is currently the third most favoured method of communication (47 percent) and it is expected to rise to be the preferred business communications tool by 2016 (52 percent), rising above e-mail (51 percent) and voice/conference calls (37 percent).
What needs to happen
In order for this to happen it is important to consider the need for unified social media APIs to make videoconferencing as simple and easy to use as making a voice call.
This is where cloud-based social media APIs can play a vital role when combined with the ability to easily arrange ad hoc meetings by automatically sending web link invites via instant messaging or having the flexibility to arrange scheduled meetings, by automatically sending email and calendar invitations with meeting details, including a web link, for simplified browser-based 'click-to-connect' convenience.
By understanding standards-based XMPP presence proxies or client API and protocols, it is simple to derive contact lists from sources including Google Talk or Facebook.
This gives a user the ability to connect any contact into a secure enterprise-grade videoconference and share content. Through XMPP and third-party APIs, it is possible to collect and aggregate presence information easily.
How the cloud connects
It is also important to have the 'cloud' element for videoconferencing, allowing users to connect with others using Google Talk or similar services, who might not be using Outlook.
Cloud also refers to the infrastructure to enable this all in a scalable way and providing the connectivity between browser-based and room system participants.
This means that through a browser and web camera users have the ability to reach millions of participants outside of an organisation, including options for connecting with them through room systems by leveraging an infrastructure – located in any data centre and in any geography – in private, public or hybrid cloud models.
Connecting social media
Simply by adopting a unified approach to social media APIs and providing the means to easily connect with social media platforms, videoconferencing can be extended to mobile and desktop participants, making high quality video collaboration with room systems a simple, seamless and effective process.