Tibco puts fresh flesh on Responsive Application Mesh
Applications used to just be applications.
Now we have rapidly developed applications, cloud-native applications, composable highly componentised applications with synaptic connections to a host of Application Programming Interfaces (APIs) and other web-centric service-based connections… and we also have applications built on an application mesh.
Mashing it up in the mesh space this month is Tibco (or TIBCO, if you're a branding fan) with its TIBCO Responsive Application Mesh blueprint.
This technology works to form the building blocks for developers working to create modern applications. The company calls this an 'end-state architectural vision' that now combines multiple product updates for improved integration, process automation, and event processing.
Randy Menon, senior vice president and general manager for Connect and TIBCO Cloud says that today's software teams need responsive, interoperable and rapidly discoverable digital assets — and this characterises what the company is providing with this product.
Menon insists that process automation is the present and the future of intelligent digital business. "TIBCO is proud to announce a partnership with WorkFusion, a market leader in Robotic Process Automation (RPA) to further realise this vision," he said.
Product announcements and enhancements here include Tibco Cloud Integration – Big Basin… technology that enables companies to monitor applications in cloud, hybrid architectures and on-premises with a new unified dashboard experience. There's also native integration with WorkFusion RPA, which, says Tibco, will enable the 'full spectrum of connectivity' from APIs to intelligent document automation at scale.

Tibco Cloud Mesh
Also here we find Tibco Cloud Mesh, a capability to enable users to create and discover assets 'from anywhere and to anywhere in Tibco Cloud, such as APIs, flows, events or integrations. This allows businesses to register, discover and reuse assets to support more streamlined and rapid application development and deployment.
As well as Tibco BusinessEvents 6 for contextual event processing, the company is also noting the update to Tibco BPM Enterprise 5 for digital process automation.
Content Continues Below

Download this free guide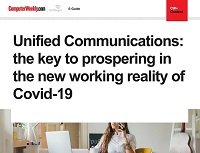 Unified Communications: the key to prospering in the new working reality of Covid-19
The coronavirus is changing everything about how people work, and will do so permanently. It added that even though the working world was experiencing unprecedented uncertainty, there were two things that should be borne in mind: the virus will pass, and at the other side of the pandemic, the world of work will look very different.