Texan "cloud calculator" aims to tot-up the cost of IT transformation
Texan cloud computing integrator Astadia is aiming to provide something rather more than just a gimmick with its "Cloud IT Transformation (ITX) ROI Calculator", which is now available online. Results for this free service are intended to help business leaders and IT teams estimate the financial returns of their cloud computing projects.
The calculator itself offers the chance to input data covering the network, storage, operating systems and database being potentially driven forward to the cloud under the service's IT Infrastructure option. Further fields exist including IT Services, Software Licences, IT Development, IT Project, Time and Results.
Final calculations are delivered expressed as the total number of hours saved, the monetary value of the transformation cost and total ROI.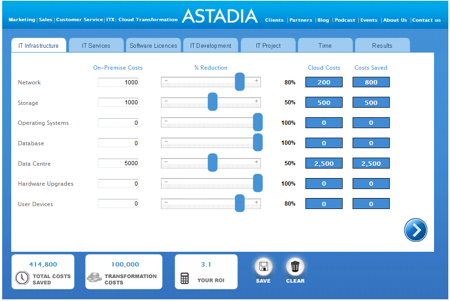 With results available in British Pounds Sterling and in US Dollars, the company hopes that the service will be accurate enough to give enterprise IT teams a helping hand as they navigate cloud implementations on every major platform including: Amazon Web Services, Google and the Force.com.
The company says that many IT leaders struggle when trying to assess the cloud platform that is right for their needs. Others lack time or resources to build the business case to move specific technologies to the chosen platform. Astadia hopes its ITX ROI Calculator will give a fast estimate of which pieces of an IT infrastructure and application portfolio will cost less and perform better when moved to the Cloud.
"This new tool shows how much money I.T. departments could be leaving on the table," says Cory Vander Jagt, director, Astadia ITX. "Premise based IT solutions leak money at three different inflection points whenever a company gets bigger or smaller. Standardising an application environment in the cloud consistently provides elasticity at all three points."