Technical blogging advice for software developers
Software programmers spend most of their time programming. Surely then, the programmer community should be an excellent source of advice for those who want to grasp the key issues of the day pertaining to any particular language, methodology, platform or device.
Sadly, not everyone feels comfortable writing "in public" (so-to-speak) on the web and many restrict their postulation and theorising to forums and newsgroups — if, indeed, they say anything openly at all.
Antonio Cangiano wants to buck this trend and encourage programmers to start blogging. A software developer and technical evangelist for IBM himself, Cangiano's logically titled book 'Technical Blogging' is intended to reach out to programmers, technical people and technically-oriented entrepreneurs to teach them how to become successful bloggers.
"There is no magic to successful blogging; with this book you'll learn the techniques to attract and keep a large audience of loyal, regular readers and leverage this popularity to achieve your goals," writes Cangiano.
This book aims to provide a "step-by-step road map" to help developers plan, create, market, monetise and grow a popular blog.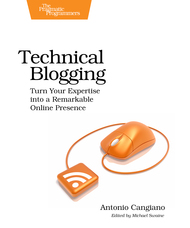 Cangiano logically focuses on the need to keep "content as king" and encourages would-be writers to think about some of the mechanics and personal motivation challenges associated with developing a successful blog and keeping the substance appealing on an ongoing basis.
"You'll learn how to promote your blog, understand traffic statistics, and build a community. And once you've built it, you'll learn how to benefit from it: advance your career, make money from your blog, use it to promote your products or company, and take advantage of your blog to the fullest," writes Cangiano.
According to Cangiano — Content is King, but Consistency is Queen.
NOTE: As a technical blogger of some years experience, its hard to comment on this book other than to say that it is interesting. It was still interesting for me to read as an "affirmation and verification" tool to make sure that I personally might be doing some of the right things if we accept Cangiano's word to be true.
What I do hope is that it encourages those programmers and technical professionals who really don't think they can write or blog to have a go. What Cangiano does NOT appear to cover (if there is one glaring omission) is the need to refine your grammar, vocabulary and general command of English — but then perhaps that should be assumed as a given if you are about to dive in.