Tableau launches Vizable: a free (and fun) data analytics app for iPad
Tableau has used its keynote sessions at the company's annual user conference to to announce Vizable, a mobile application designed to help understand data with an iPad.
The firm's VP of mobile and strategic growth Dave Story showcased the app to what appeared to be a receptively pleased crowd reaction.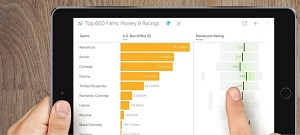 Analytics can be fun
The free app can ingest data from a spreadsheet and then present it for touchscreen usage.
The idea here is said to be "fun and approachable data analysis" for more users — and Tabeau means more 'types' of users here i.e. a democratisation of data analytics through a tool that works on a device that we are used to using for everyday tasks.
An iTunes free download link is shown here.
The free iPad app makes it possible to explore data by using gestures such as pinching, swiping and dragging, allowing users to sculpt data into visualisations.
A tool for a real need?
Tableau says it has already put Vizable in the hands of a number of businesses and organisations who previously had data and questions, but no easy tool to answer those questions.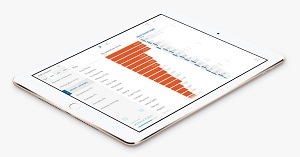 "We started with a food truck, so the very nature of our business is mobile," said Roz Edison, owner of Marination, a Hawaiian-Korean fusion cuisine business with one food truck and three restaurants in Seattle. "Since we've started using Vizable, if someone asks me how Marination is doing this week, I can pull out my iPad, start swiping and dragging my cash register data, and boom! It's that easy."
"There is no great app to see and understand a spreadsheet visually, using only a tablet," said Story. "This is an incredibly common scenario. Whether you're a teacher with students' test data, a small business with the day's sales, a cyclist with ride stats, or an executive with the past hour's web site traffic – Vizable brings analytics to more people by engaging them with their data like never before."
The first version works with data in CSV files and Excel (xls or xlsx) files.
Visualisations created in Vizable can be shared with friends and colleagues through email, instant message, or social media.
PRODUCT NOTE: Vizable is currently available worldwide in the Apple iTunes store in English — it supports data in many international formats today, and will be translated to other languages in the future.
Is it all good news here? Well, yes… but the crowd shouted one word as the Tableau VP left the stage at the end of the presentation:
ANDROID !!!
We can reasonably assume that the firm will port to other operating systems in the fullness of time.