TIBCO champions data exploration, analytics & visualisation
TIBCO has this week announced its cloud-based Spotfire data discovery and visualisation platform.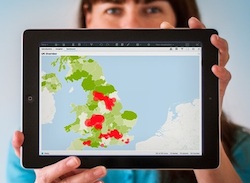 Spotfire offers enterprise analytics software for Business Intelligence, but here it is presented as a hosted service without the need for corporate IT management of an analytics software consideration.
Inside the box here we find Spotfire Cloud Personal: for individuals.
We also fine the Cloud Work Group version: for project teams and what TIBCO calls "serious analysts" who need application-building tools to visually explore data quickly and deploy analytic applications at a very low cost in SaaS format.
In case you missed it — that was the "payoff" line i.e. real tools to address data's favourite three words…
… software application-building tools for data exploration, analytics and visualisation are to be found here. So this almost (but not quite perhaps) allows the product to rank as "platform" status.
CTO Matt Quinn says his company is focused on, "Developing and acquiring the foremost cloud services that enable businesses to discover new ways of connecting people, derive intelligence and improve operational efficiency."
The Spotfire Analytics family is getting bigger:
Spotfire Mobile Metrics – Your KPIs in a Mobile App
Spotfire Cloud – Analytics in the Cloud for Individuals, Teams and Enterprises
Spotfire Platform – Fast Analytics & Data Discovery for Everyone
Spotfire Advanced Analytics Products
TIBCO recently closed a series of acquisitions of cloud technologies, including Maporama, a cloud-based provider of location intelligence and geospatial analytics solutions, and Extended Results, a business intelligence software company that delivers mobile KPIs on the cloud. Spotfire Cloud is available as a 30-day free trial.