Something old, something new, something secure & something blue
Last week's InfoSec security exhibition was pretty good value. The usual mix of briefings, stands and "booth babe" show girls, packets of complementary (but heavily logo-branded) mints and candies, on-the-spot interviews and — oh yes, vendors and news announcements too.
So as I bounced between the stands and spent a good deal of time with companies including SecureData and Websense (watch this space for more from both), I also got a basin full of IBM.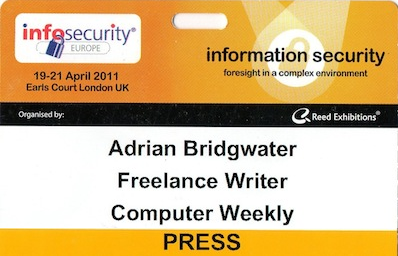 Now IBM, as we know, makes a version of pretty much everything. So how does its security offering match up?
Something old
IBM says it is, "The only technology provider with more than 40 years of security development and innovation."
Hmm, this sounds like an overly grandiose claim, but then again, not many IT companies go back as far as IBM. Julius Caesar apparently invented his own message cipher back around 50 BC, but he wasn't VAT registered, so he wasn't strictly a company in his own right – perhaps we'll have to allow IBM to say this then?
Something new
IBM says it has made 11 security-related acquisitions since 2006, including Ounce Labs, Internet Security Systems, Watchfire and most recently BigFix. This is what the company has been spending its pocket money on recently, so this is our "new" factor.
Something secure
Today, IBM says it has more than 250 security-related products and services as well as nine worldwide research labs and nine security operations centres.
Developers touching IBM security technologies will work with products such as IBM Rational Asset Manager, which supports integration with the Tivoli Change and Configuration Management Database (CCMDB).
"Developers can automatically create assets in Rational Asset Manager from existing configuration items (CIs) in CCMDB and use Rational Asset Manager as a Definitive Software Library (DSL) for storing software images," says the company.
Something blue
Into deeper Big Blue IBM territory to finish, we find that IBM has announced the results from its 2010 X-Force Trend & Risk Report, which marks a year where public and private organisations around the world faced increasingly sophisticated, targeted IT security threats.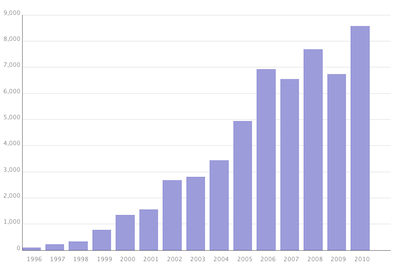 IBM: Security Vulnerabilities Per Year
According to IBM's report, "More than 8,000 new vulnerabilities were documented, a 27 percent rise from 2009. Public exploit releases were also up 21 percent from 2009 to 2010. This data points to an expanding threat landscape in which sophisticated attacks are being launched against increasingly complex computing environments.
"