SAP mobility apps dial electronic coke & Formula1
For a 'non-telecoms' company, SAP made what Ovum analysts called a "confident show with its telecoms portfolio" at this year's GSMA Mobile World Congress which, (as you will know unless you have been living inside a cave) is held in the Spanish city of Barcelona this week.
Before the Computer Weekly Developer Network examines the corporate news feeds from SAP and others (and there were a handful), we naturally took a walk around this particular stand to eat the complimentary gummy bears and look at the exhibits.
NOTE: Actually, it was a formal press tour of stand exhibits, but two of the displays stood out (arguably) to pretty much any passer by.
SAP has integrated its take on Near Field Communications (NFC) technology into a vending machine so that users can purchase soft drinks with NFC-compliant devices. This is a nice enough app implementation in its own right, but there is more here than meets the eye…
… in the future, if you go to a vending machine to buy a drink and you have the corresponding app on your smartphone, you'll be able to receive personalised offerings via NFC (Near Field Communication).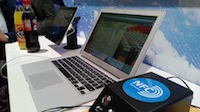 For example, there might be an offer for 20% off your particular brand of soft drink. Or more interestingly, more sophisticated machines may even be able to "mix your own brand of soft drink" for you based upon your own recipe — it's not that far off happening.
With this kind of system in place for other types of automatically vended products, we can perhaps argue that the manufacturer has a chance of getting perishable vending products to consumers before they pass their sell-by date.
The "intelligent vending machine" can do a whole lot more: including sounding an alarm if the temperature rises and the products are no longer refrigerated, calling a service technician, and giving an early warning when the machine needs restocking.
"The SAP HANA database provides the manufacturer with vital additional insight relating to the vending machine, such as the choice of location. While it's fairly obvious that sugary, high-calorie sodas will not sell well at a gym, HANA can provide insight into much more complex patterns," said the company, in a press statement.
This application scenario potentially goes even further i.e. into "gamification".
Although not ALL users will want to tell Starbucks, Coke and other consumer product vendors who they are – many are happy to do so; just look at Starbucks' Twitter followers and the level of interaction.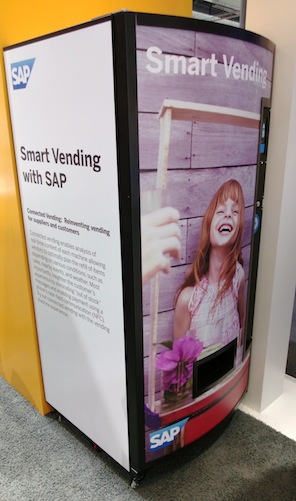 The suggestion here is that consumers will be happy to "competitively consume" products (drinks or otherwise), or perhaps even design their own flavour of drinks and gamify their recipes among other users in order to be voted a winner among a given peer group, or even publicly.
It's either consumer choice gone wild, or a consumer dream.
So for an external view, Clare McCarthy is telco operations analyst at Ovum. McCarthy pointed out that SAP's nine announcements before and at MWC 2013 have included optimising inventory and service levels in the supply chain, money transfer solutions for mobile operators and cloud-based M2M solutions.
Another vertical to mine
"It is interesting that a non-telecoms company such as SAP has chosen to make so much noise at MWC. SAP, along with other independent software vendors (ISVs), sees the telecoms industry as another vertical to mine. The ISVs' horizontal portfolios and business process management can provide the solutions that telcos need to become more agile," she said.
McCarthy points out that SAP has already published a book – Beyond Connectivity: A Guidebook for Monetizing M2M in a Changing World – that is designed to help monetise M2M.
"We know that the telecoms industry still gets excited about new devices, the next superfast infrastructure, and the money involved in spectrum auctions. However, we can't stress enough that innovation happens in the telco's software. The industry shouldn't overlook the importance of announcements from ISVs as this is where sustainable value is being created and where the real changes are happening," she added.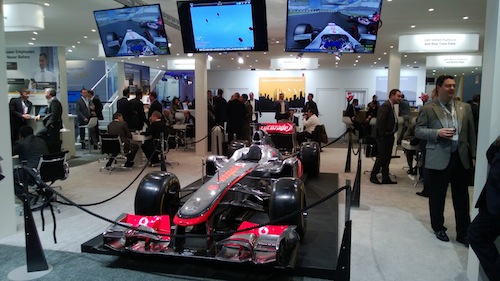 The "other" major demo on the stand was (as you can see pictured) a real chrome formula 1 car. The chassis of the car itself was fitted with over 250 sensors to determine wear and tear on every component from wheel bearings to brake disks, all of which are (of course) compiled into a "big data" analysis process into (of course) SAP HANA.
Nice exhibit — but to be fair, more people seemed interested in getting a free coke out of the electronic vending machine and hearing about gamified fizzy drinks and sodas.
Is Ovum right? Does the "real innovation" happens in the telco's software? Is it down to the ISVs to create the corresponding "sustainable value" here? Do consumers, developers, database administrators and IT departmental managers know the difference anyway?
We shall continue to scrutinise…