Qt Developer Days - Day One Keynote Notes
Qt has clearly grown. Back in 2008, this Qt Developer Days event drew 520 developers and I was there to participate in the proceedings. In 2009 the company (post Nokia acquisition as it was) had clearly outgrown the hotel it had been using. So in its new location for 2010, we now see over 1000 attendees here in Munich.
So what's a keynote without a special guest? Well, Rich Green is CTO for Nokia now that he's moved on from his previous tenure at Sun. Green took the stage this morning to explain that his track record has encompassed the creation of J2EE and he ran Solaris during the dot com era.
Green then tried to explain what the role of the CTO really is in day-to-day practice. For Green, it's all about applications and he seems to understand the difference between an API and a boardroom table.
As an ex-developer himself, he promised us that this time next year he would also be 'hands-on' with Qt itself and have spent time at the command line with the framework and toolkit – something that surely all CTOs should really do if they are going to come good on the promise to 'eat their own dog food' right?
Note: "dogfooding" seems to be being coined to describe the use of one's own technology, you may not like it, but its probably going to stick.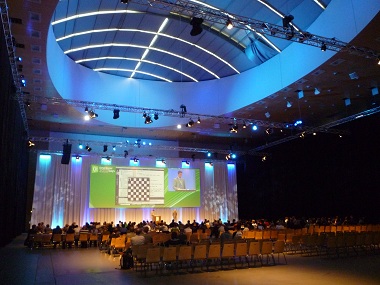 It's all about "upward and forward compatibility" right now said Green, where new toolkits and frameworks may result in new apps that stretch devices, but these should all work until the device itself physically can not support the software any longer – and therefore the time for a hardware upgrade becomes essential.
"Open governance and community engagement is key to open source success," said Green.
Qt president Sebastian Nystrom also took to the stage this morning and his 'leave behind' was that the latest iteration of the Qt application development framework (version 4.7 in fact) has been focused on performance refinements rather than feature augmentation. Yes there are new features too, but it's interesting to see an app framework reach a watershed point where the vendor's focus returns to usability and being 'performant' rather than simply ramping up new functionality.
More as it happens…