Programmers to embed video conferencing deeper into real life
At some point during the 1900s (or thereabouts) what we used to know as video conferencing became known as presence, telepresence, or even immersive telepresence if you will.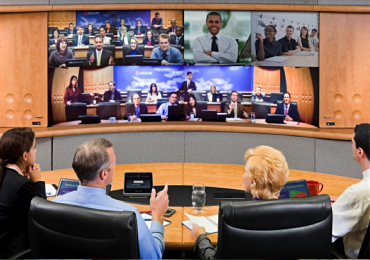 Telepresence is in fact much the same video conferencing but carried out with the support of high-end "codecs" to enable users to speak and view each other over high bandwidth connections that support HD resolution images.
One of the higher profile players in this market is Polycom — and the company is launching its new RealPresence CloudAXIS suite on the 6th June 2013.
The firm claims to have created a new piece of video software here to enable businesses to collaborate "independent of application or device" being used.
Attendees are sent a URL via email, IM or calendar invitation and can "simply click" to join a video session without downloading or purchasing software. It is billed as the industry's first global, presence-aware directory that integrates contacts from Skype, GoogleTalk and Facebook.
The application developer angle
Polycom ran its first developer contest earlier this year and challenged programmers to submit solutions using Polycom RealPresence open application programming interfaces (APIs).
NOTE: X2O Media won the grand prize with an application that delivers live and on-demand video content to digital signage devices, Polycom VVX IP phones, and video kiosks.
The firm now runs Polycom runs developer.polycom.com, a free portal and community for developers where they can search for and share code and app examples as well as ask questions of Polycom and independent developers.
The Polycom RealPresence CloudAXIS Suite is being supplied as an "off the shelf" retail product, so some customers are just buying the product and using it as is. BUT the suite includes APIs, which can be tailored and customised to create bespoke products which integrate into the workflows and processes of individual organisations.
There are 2 APIS:
1. The scheduling API, which is included in the price of the product
2. The Meeting Experience Application, which controls the in call/video client experience, and can be purchased for an extra fee.
The APIs can be used to create bespoke applications or a (developer) customer can purchase professional services (developer expertise) from Polycom in one of 2 ways: Hours of development time, in a 'pay as you go format'; or Project scope, working towards a customer defined specification.
The idea is that with the open APIs the suite can be adapted to suit the needs of customers in the various vertical sectors and industries that Polycom already service including the below examples:
In recruitment consultants — who would integrate the suite with a CRM tool so that Meta data on the candidate can be accessed simultaneously, including CV, LinkedIn profile etc. Or contact centres — who could include a video call button on contact pages so that calls be escalated from voice to video at the choice of the customer or the centre. For example, in terms of complaints management, seeing a customer eye-to-eye could help reassure them that their complaint is being dealt with