Office as a Platform: Microsoft //builds/ in new 'data & intelligence' channels for developers
If you thought that Microsoft Office was a piece of software, a productivity 'suite' featuring a word processor with a spreadsheet and more… then you're still right, this is what Microsoft Office is…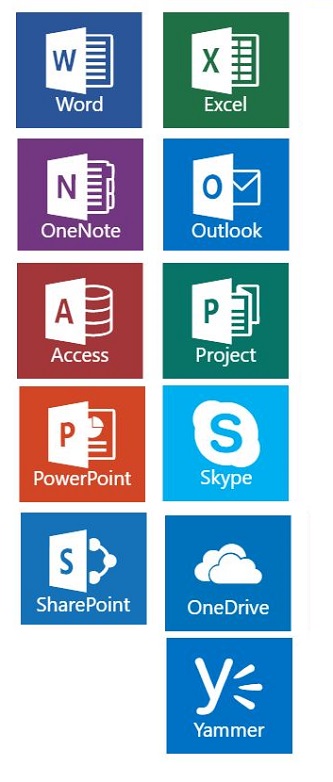 … but now (as of Build 2015 especially) Microsoft says that Office is a platform.
Integration into other applications
Last year we explained here how Outlook will now have wider integration into other applications.
Examples include integration to apps like LinkedIn to show a 'power email user' who all the people that they are getting mail from without having to open LinkedIn.
There are also integrations in Outlook to Salesforce to help build business processes into the communications infrastructure of Outlook. An Uber 'ride reminder' can connect with the calendaring function in Outlook too… and so on.
"Applications that you build will now be capable of 'showing up' throughout Office so that they do more than any single application on their own," said Microsoft's Nadella.
//build/ 2016
This year's Build 2016 developer symposium and convention sees Microsoft pour further enrichment into this space.
The firm announced three new Office-specific opportunities for developers:
• Enhancements to the Microsoft Graph that can be used to build smarter business solutions.
• Improvements to the add-in model, including support for Office for Mac 2016.
• Centralised deployment and programmatic creation of solution-specific ribbons and buttons; and new extensibility features for Skype and Office 365 Groups.
Microsoft Graph
According to Microsoft's Kirk Koenigsbauer, corporate vice president for the Office team, "Last November, we made the Microsoft Graph generally available, allowing developers to integrate data and intelligence from Microsoft services into their own apps. Today, we're expanding the capabilities of the Microsoft Graph so developers can build even smarter apps — powered by data and insights from Office 365. Developers can now use the Microsoft Graph to access a user's out-of-office status and recent email attachments."
Koenigsbauer explains that new APIs return 'relevant documents' and suggestions for meeting times based on real-time calendar availability — new web and device SDKs make it easier to access the Microsoft Graph and surface Office 365 data in business solutions using drop-in integrations like the OneDrive file picker.
NOTE: In addition, Microsoft claims that it is making applications that consume Office data more responsive by providing notifications through Microsoft Graph for changes to users' mail, calendar and contacts.
Office 365 Groups
Office 365 Groups connectors are also generally available as of now to allow developers to push data from their own services into an Office 365 Groups conversation in Outlook.
"This means businesses can leverage familiar experiences to collaborate on and interact with data from these external services. We also announced that we will be bringing Office 365 Connectors to the Outlook inbox soon. Zendesk has built an Office 365 Groups connector that allows different departments working in Zendesk to easily escalate tickets to groups in Office 365. Colleagues can then collaborate on the ticket together to resolve the issue," said Koenigsbauer.
In addition to the Office extensibility enhancements, Microsoft has also demonstrated two prototypes of future Office inking experiences designed to make pen and ink a primary input across the Office apps.
One example used upcoming Windows capabilities for simultaneous touch and pen use, showing the ability to draw lines with a digital pen and line up objects against a ruler in PowerPoint that could be actively positioned with two fingers.
Microsoft is committed to building out Office as a platform alongside it's other platforms i.e. the Azure cloud service and the Windows operating system platform — extended commentary is available here describing Satya Nadella's description of 'convesations' as the firm's fourth platform.