Nobody ever got fired for collaborating with IBM, yet
IBM's largest annual geek-fest kicked off this week in Orlando. Rock band OK GO opened the show with a superb live performance of their hit "Here I Go Again" — but this week's highlight will be a keynote delivered by Sir Tim Berners-Lee later this Wednesday.
Before that, the guest speaker on day one was Michael J Fox who shared some words of wisdom from his years acting in Hollywood. "Don't play the result," said Fox. "And that goes for you geeks programming as much as it did when I was acting — what I mean is, don't act like you know what the outcome is going to be, expect the unexpected."
While this is hardly a revalation, if you can draw parallels between programming and playing Marty McFly in Back To The Future then you have to give him some credit. Fox also referred to his Parkinson's condition and said that he wasn't ready to play the result of that diagnosis yet either – so pretty inspirational stuff.
For the record, he also said that he doesn't expect hoverboards to arrive any time soon.
So to IBM, the conference content started off with Alistair Rennie, IBM's GM of collaboration solutions. Rennie explained the 'social business gospel' according IBM where companies move to becoming more engaged and, crucially, more transparent with each other at the employee-to-employee level — and between employees and customers too of course.
You didn't expect IBM not to mention customers did you?
"Social business is social networking tools and culture applied to business roles, processes and outcomes," said Rennie in a well-rehearsed opening comment. "What this leads to is the opportunity for firms to augment skills, distribute workloads and improve efficiencies throughout. Put simply, ANY business that relies on people is not LIKELY to change, it IS about to change."
IBM says that the upshot of these developments (which I could try and disagree with but I fear it would be hard to), will be a much deeper level of data analytics which will need to be brought about by both database professionals and software application developers.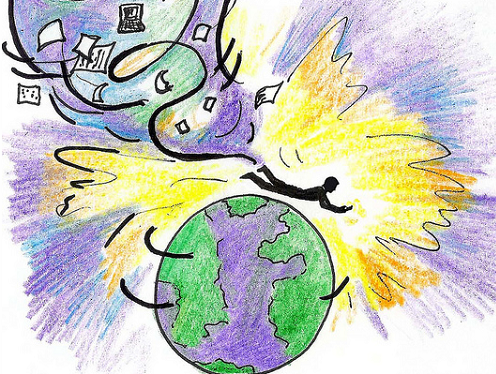 In terms of the actual product announcement today, first day news has hinged around IBM's new cloud-based web 2.0 driven social networking platform, IBM Connections. None of the potential value to be leveraged from "social" techniques used in the business arena will be available without "deep and pervasive" analytics says IBM and the new software provides these functions along with real-time data monitoring hosted on IBM's SmartCloud services.
"Now, organisations can integrate and analyse massive amounts of data generated from people, devices and sensors and more easily align these insights to business processes to make faster, more accurate business decisions. By gaining deeper insights in customer and market trends and employees' sentiment, businesses can uncover critical patterns to not only react swiftly to market shifts, but predict the effect of future actions," said the company, in a press statement.
Rather than bore us with the usual customers, customers, customers mantra over-used by so so many vendors – IBM wants to hammer home these technologies' proximity to mobile, mobile, mobile.
IDC for its part predicts that mobile workers will number 1.19 billion globally by 2013.
But is it all talk?
Let us just remember that IBM is keen to "talk up" this market, but that it is still early days. Although IBM is keen to point to Forrester Research's comments which state that the market opportunity for social enterprise apps is expected to grow at a rate of 61 per cent through 2016 reaching US$6.4 billion at that this time.
In real terms, this technology encompasses social analytics software that integrates wikis, blogs, activity streams, email, calendaring and is then able to flag relevant data for action. The product then allows for instant collaboration with the option to "react to insight" by automatically creating a social network — the concept being the opportunity to bring together experts across geographical and market intelligence and swiftly respond to these insights.
Rennie's closing comments centred around putting collaboration and social networking in the context of everyday work, as he puts it "From the device or delivery vehicle of your choice, to improve productivity and speed decision-making."
Where will we be in five years time? Will "social" be as much of a buzzword as it is now and will we all be as excited about it? Rennie says we can not know, but it's fairly sure that he is convinced.
We know the old saying — nobody ever got fired for buying IBM. That expression has fallen out of popular use for sure. So in five years will we be saying — nobody ever got fired for collaborating with IBM?
Well somebody had to say it first, just in case it happens.