Microsoft Azure: we're platform-agnostic, but we think you'll like our own special sauce
Every cloud provider should have it's own exhibition, symposium, pow-wow and convention with the name of its product bolted onto or into the shortened "con" for conference, right?
So then, Microsoft Corp has AzureCon, obviously.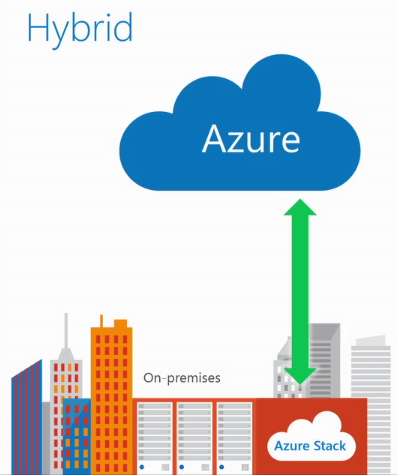 NOTE: If you want to pronounce Azure correctly you have to adopt an American lilt — so forget any use of "Az-you-rrr", you need to shorten to "Az-yer".
The firm hosted the event somewhere in North America (none of the website pages seem to say where it was) and this was a chance to focus on solutions spanning containers, security, infrastructure and the Internet of Things (IoT).
Yes and of course, Microsoft said transformation, transformation, transformation — that's what everybody says today — Microsoft also said "generational shift in computing", so that's a nice extra.
(Ed — enough cheap jibes already, get on with it)
Microsoft cloud exec Veep Scott Guthrie (no smart remarks please, this man a true techie hero, make no mistake) spoke about the "vast opportunity" for businesses to tap into their data to make their software application development more intelligent.
So to the products…
Containerisation is an increasingly popular way to maximise application values said Guthrie.
That was a nice comment to segue to Microsoft's new Azure Container Service designed to combine the openness of Apache Mesos (that's a piece of open source cluster management software) and Docker with the hyper-scale of Azure for container orchestration and management.
Web-scale hyper-scale
Hang on, Nutanix talks about web-scale and Microsoft talks about hyper-scale, but they appear to be mostly the same thing i.e. large and connected.
With the new service, cloud developers using Azure are promised an easy route to easily deploy and configure Mesos to cluster and schedule Dockerized applications across multiple virtual hosts.
According to Microsoft, "Unlike many other container services in market today, this offering is based on open source to enable customer choice across the ecosystem and will support Windows Server containers in the future. The service will be available for preview by the end of the year."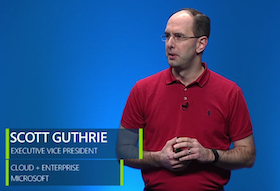 A platform-agnostic Microsoft
IDC's Al Hilwa commented on some of the news released and said that, "I found it interesting that Microsoft is going to ship Linux cluster container management on Linux ahead of Windows."
"This is definitely the new Microsoft trying hard to be as platform-agnostic as it can in its cloud, in order not to be left behind. Mesos is a great open source solution that is getting a lot of traction. It is important today that the platform players are way ahead of real customers in terms of deployments, so I expect this space to remain in flux," added Hilwa, who is IDC's programme director for software development research.
Microsoft also announced that its Azure IoT Suite is now available — this package is intended to be used to build and scale IoT projects using preconfigured solutions.
Microsoft also announced the expansion of Azure Data Lake — this includes Azure Data Lake Analytics, Azure Data Lake Store, a new programming language U-SQL and Azure HDInsight general availability on Linux.
Azure Security Center was also in the group of announcements here. Plus also N-series, a new family of Azure Virtual Machines (VMs) powered by NVIDIA GPUs.
If you want to big picture on where Microsoft sits with cloud today, play to Guthrie's keynote https://azure.microsoft.com/en-gb/azurecon/ and listen carefully at 2:47 — Microsoft's claims its "total" offering in cloud is more comprehensive than any other competitor.
Very sneaky, very clever
The wider Microsoft strategy may yet prove more intelligent than at first glance i.e. the platform-agnosticism extends to mean that developers should be able to program for "any endpoint" — it doesn't matter which device you use…
… but all the while, Microsoft is making the Surface running Windows 10 (for my money) a much better machine that the iPad for mobile computing, by far.
Go open, but then make your own products better anyway?
Damn! I wonder if Redmond realised that?