Microsoft & Amazon establish (unintentional) International Cross-Platform Push Notification Day
Microsoft's Azure cloud platform has been to the mechanics for its summer service and come out with an oil change and additional sports trim in the shape of Azure Notification Hubs.
Notification Hubs is designed to allow mobile software application developers to produce personalised "push notifications" to customers via Android, iOS and Windows devices.
NOTE: Engineering-in the required code tuning to produce push notifications at the application backend has been (traditionally) somewhat time consuming until this kind of automation/management functionality has been brought to the fore.
In an unrelated piece of related news (that came out on exactly the same day), Amazon Web Services (AWS) announced the Amazon Simple Notification Service (Amazon SNS) with Mobile Push, a managed cross-platform push notification service in the cloud.
Amazon says that with one API, application developers can send notifications to Apple iOS, Google Android and Kindle Fire devices.
It's like its international cross-platform push notification day
Supporting push notifications (at large scale) has been incredibly complicated for mobile app developers.
The technical meat
Amazon aserts that each popular mobile platform maintains a different free relay service that delivers notifications through "persistent connections" to devices running the platforms they own…
… this, in turn, means that to support millions of users on multiple mobile platforms, developers must integrate with each of these platform-specific relay services, which introduces operational complexity and cost — all of which slows down and/or negatively impacts development.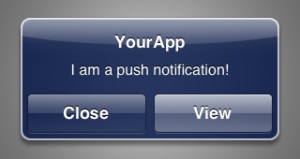 VP of database services at AWS Raju Gulabani explains that the nature of mobile app distribution is such that successful apps can become popular almost overnight, exacerbating these push-related programming challenges.
VP of Microsoft's server and tools business Scott Guthrie explains that push notifications are a "vital component" of mobile applications — he calls them the "most powerful customer engagement mechanism available" to mobile app developers.
This technology (sorry, these technologies plural) are not simply focused on sending one push notification message on one device to one user — this is about sending simultaneous push notifications in a low-latency way to millions of mobile users.
Doing all of that, simultaneously, with personalisation and with international localisation too is no small task and this is what Amazon and Microsoft are now both focused on.
The more subtle differences between the two firm's offerings is a topic for a more extended and technical analysis — at the surface level, both firms appear to have produced similar developments on the very same day.
Image credit from http://www.biznessapps.com/