LogMeIn Rescue: over-the-air remote diagnostics that now speaks Android
Mobile operators and device manufacturers now have a new option to remotely diagnose and troubleshoot application usage on Android smartphones and tablets with the release of LogMeIn Rescue. Already in use by customers in several international markets including Vodafone in the UK and Germany, this new service supports iPhone, iPad, BlackBerry, Symbian and Windows Mobile devices.
Attempting to logically align services to support Android is perhaps no major surprise, given the huge growth in popularity of the mobile operating system. Produced in two versions – one for mobile operators and device manufacturers, and one for businesses – LogMeIn says that its mobile operator/OEM version introduces the ability to remotely control customer devices over-the-air from the support technician's computer i.e. just as if the device were in a support technician's hands.
Offered on a SaaS model delivery basis, the product is sold at US$1956 per support technician per year.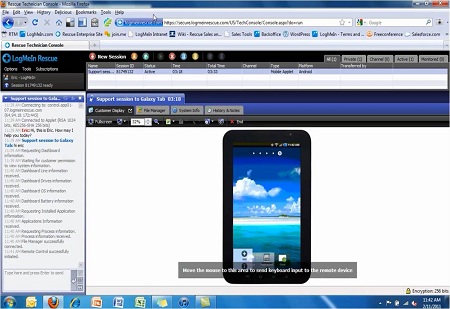 With Android-focused device manufacturers set to release an extensive selection of new handsets in 2011 – the market for remote diagnostics (across not just Android, but multiple operating systems) in this vein could well be set to mushroom.
LogMeIn says that two leading Android device manufacturers have already signed up to provide this new service as a pre-deployed install on select smartphones and tablets expected to ship in the first half of 2011.
Both versions of LogMeIn Rescue include a diagnostic dashboard to display device information, while offering the ability to transfer files between the technician and the end user's device as well as an ability to chat with a user. Remote control capabilities will initially be available only on the operator/OEM version.
"Mobile operators and device manufacturers want to make sure their customers have the absolute best experience with their Android smartphones and tablets, and good, fast support is a critical part of keeping those customers happy," said Lee Weiner VP of support products at LogMeIn. "By working closely with our mobile and OEM customers, we've created a new version of LogMeIn Rescue that is now shipping on many of today's most popular tablets and smartphones to provide Android users with a highly efficient customer support experience."
"Vodafone is pleased to offer our customers first-class support in a convenient and fast manner. With remote support, we enable our support staff to work more efficiently and solve more issues on the first customer contact," said Markus Baumhaus, project manager for customer experience at Vodafone Germany. "The first thing that attracted us to the tool was the ability to support smartphone users remotely. This innovation enables us to support customers with complex mobile devices at the same quality standard they are receiving from PC support."
In light of the yet-to-settle mobile device policy which exists in many company where "bring in your own device" is still very much a reality, the existence of a single tool with the capability to manage a variety of computers, smartphones and tablets through a single service could prove to be a compelling proposition.