Jive aims to 'program' best practice into business
Jive Software is aiming to "program in' best practice into business — the firm has released new packaged solutions for key industries and groups.
New products include: Jive for Healthcare Collaboration, Jive for Employee Engagement and Jive for Customer Engagement.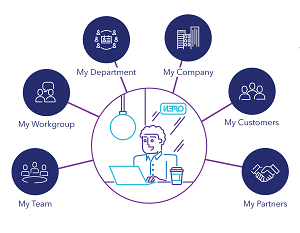 The software itself is driven by Jive WorkHub and it is designed to apply best practice templates, configurations and bundled professional services to solve business pain points for verticals.
Oh yes, 'purposeful experiences'
Jive WorkHub creates purposeful experiences so people can move seamlessly from discovery to conversation to action, using whatever collaboration or communication style works best for them.
The company says it is building these new focused products based upon successful implementations at 1,000 companies, such as Humana, Societe Generale, Cisco, Pearson and GoDaddy.
"Businesses need to solve a wider range of problems, working with more kinds of information and more kinds of people, at a velocity that was once unimaginable," said Elisa Steele, chief executive officer at Jive.
"More than ever, success demands a collaborative work environment. It comes from tapping the workstyles, brainpower and experience of every employee, regardless of role or location. It comes from taking an outside-in view – closely engaging with partners and channeling the voice of customers to align company actions to customer needs. Jive is the only provider that truly breaks down boundaries to achieve the optimal business value for employees, customers and partners."
Medical implementation
"It's critical for us to have a single, secure place where members of the MD Anderson Cancer Network can communicate and collaborate on both complex and routine patient care activities, in an environment that is rich with resources, mobility and functionality," said Melanie Wong, vice president of business development and chief strategy officer at MD Anderson Physicians Network.
"Jive for Healthcare Collaboration gives us a secure, robust platform that's perfect for sharing best practices around service lines and specialty areas–helping our team improve the overall patient experience."
In addition to this initial release of tailored solutions for departments and industry verticals, Jive also announced new enhancements to its internal and external community solutions.