How to host a big data analytics event
As we know, big data is everywhere.
More specifically, the drive to architect software application development constructs inside which big data analysis and predictive analytics can be performed is ubiquitously spreading across the data services landscape such that every vendor worth its salt now proffers either a direct solution or a closely coupled touchpoint to this technology stream.
Time then for more big data analysis events, conferences, symposia, developer conventions and exhibitions.
An event of this kind needs various parameters covered and building blocks included.
Content analytics must feature prominently, but then so must "information lifecycle governance" (or ILG if you wish to give it an acronym) and of course social content management.
The social data/content stream needs to be close to the Bring Your Own Device stream, naturally – you wouldn't expect anything else right?
Also in the core "topics we really need to cover" zone is data quality management, information governance, risk analytics and cross-platform data management.
Once you've got those aspects covered off you can look at industry-specific solutions and start to list transport, retail, health etc…
Round about now you probably want to book the band for the party night.
Above all make sure they are fun… and if possible make sure they are actually the band FUN from New York — https://www.youtube.com/watch?v=Sv6dMFF_yts
All going well so far?
OK so this is a good time to throw in a relevant data analysis statistic from somewhere like the Wall Street Journal – and luckily we have one.
In surveying 1000 middle managers of large companies in the U.S. and U.K., 59% miss important information almost every day because it exists within the company but they cannot find it.
[Accenture, Wall Street Journal, 5/14/2007]
Excellent work. OK so after lining up the Gold, Platinum and 'other' sponsors (who decided to sponsor the lunch sessions again?) and organising the EXPO theatre layout it's time for some creative audience planning.
Why not offer "themed guided walkthroughs" of the EXPO hall rather than just allowing attendees to bounce from one stand to the next scooping up sponsored packs of Jelly-Belly jellybeans (OK, yes, they are nice though) so that delegates get more value?
This is a data analytics conference after all right?
So Tour 1 could be for example – speeding up and simplifying data and analytics.
For Tour 2 – let's call it simply 'Managing Risk' with CAPS.
… and for Tour 3, let's call this one something like – transforming data identity in real world use cases.
To carry forward the hands-on feel from Tour 3, we could also have a 'Usability Sandbox' area with sessions to get developers and data engineers used to real tools and see what works, what feels clunky and what we perhaps need to feed back into the enhancements process.
Last but not least, the real meat i.e. morning keynotes and subsequent sessions.
Pre-conference sessions, core day 1, 2 and 3 product sessions and then, if you have the stomach for it, post-conference 'unconference' sessions too. Oh go on then, throw in a few Birds of a Feather sessions too just so we don't look stupid.
Finally you'll need to cover off social media and you'll need a memorable and snappy conference name.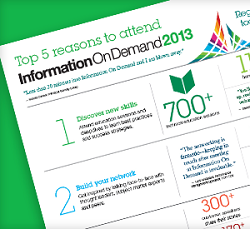 As a pure finger in the air illustration here, you could use #IBMIOD, #IBMBigData, #IBManalytics and #IBM and call the event IBM Information On Demand for example.
The working title for this story was: What to expect from IBM Information On Demand 2013 Las Vegas November 3 – 7 2013, but why be specific?
If you had enough big data analytics in place you would have known what we were talking about before we got the end right?
Editorial disclosure: The event brochure for the IBM Information On Demand conference may have been 'casually leafed through' and perhaps 'painstakingly cross-referenced' during the drafting of the above content.